Date added: 06 March 2008
Tito back in town
Jackson 5 star returns to praise anti-bullying campaign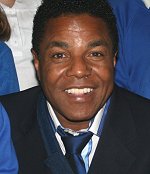 Tito Jackson, member of the world-famous Jackson 5, was back in Swindon again today to promote anti-bullying.
The 54 year-old, who paid a surprise visit in January 2007, was greeted at St. Catherine's Catholic Primary School in Upper Stratton by the sounds of 200 screaming children, all keen to meet the former popstar.
Tito was invited to speak at the school after Pat O'Driscoll, who runs the Matt Fiddes Martial Arts School in Swindon and who's daughter attends St Catherine's, told him about the anti-bullying campaign taking place there.
And despite having his arm in a sling after breaking his wrist four weeks ago, Tito had no problems getting involved with the kids - including what he does best - getting down with the music.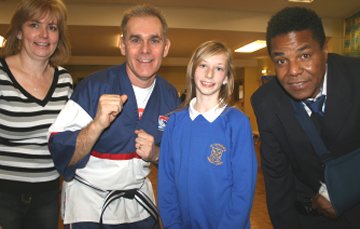 Tito Jackson with Pat O'Driscoll,
Pat's wife Andrea and daughter Megan
The brother of Michael Jackson delighting teachers and pupils alike when he sang along to an anti-bullying song, written by ten-year-old Abbie Fiore, and performed on the electric guitar by Theo Altieri, also ten.
And after a moving speech about the issues of bullying and the value of family, he was happy to answer their questions - with everything from "What's the best thing about being a popstar?" to "What car do you drive?" being thrown his way.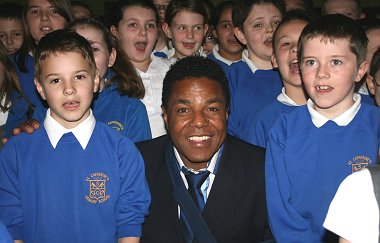 Tito sings with pupils from
St. Catherine's Catholic Primary School
Headteacher Brenda Martin said: "It's been like a dream! I couldn't believe it when Tito joined in on the children's song, they'll be buzzing for weeks!"
Rumours were also flying that Tito is house-hunting right here in Swindon, and that a Jackson 5 reunion could be on the cards at the County Ground.
But we won't hold out too much hope just yet...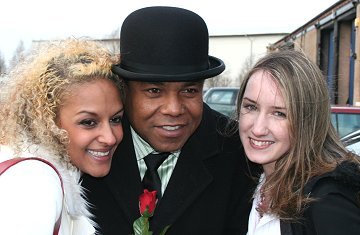 Mel Turner-Wright
Holy Rood Turned Hollywood
South African star & wife to Michael Jackson's former bodyguard performs at Swindon school - SEE PICTURES + WATCH VIDEO

Beat It!
It's Fiddes, Fedoras & Foxx's in Swindon to promote Jackson tribute - SEE PICTURES

22 May 2013

Anti-Bullying Week
Students tackle cyber-bullying for national campaign...

16 November 2009