Date added: 06 March 2008
Huge award for young Swindon filmmakers
Mobile Media students reach for the stars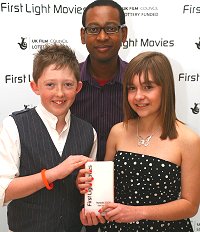 award
from BBC's Lizo Mzimba
It might not be the Oscars, but for one group of students in Swindon, a national film award has taken them one step closer.
Pupils from Isambard Community School brought home a First Light Film Award for 'Best Documentary', after a star-studded ceremony in Leicester Square on Monday night.
And they weren't the only stars either.
The First Light Movie Awards are held each year and attract all kinds of celebrities - this year including Orlando Bloom, Kevin Spacey and Stephen Fry.
The award-winning documentary, 'The Child and Me', told a story of their transition from primary to secondary education, with the help of Create Studio's Mobile Media production team.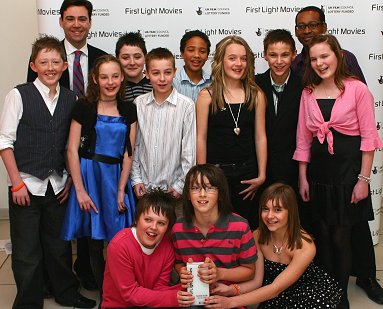 pupils from Isambard Community School
holding their First Light 'Best Documentary' Award,
with MP Andy Burnham and Lizo Mzimba
Shahina Johnson, Director of Mobile Media, said: "We are so thrilled to have received this prestigious award.
"It is a real testament to the dedication of our filmmaking team at Create who want young people to produce work that is truly professional and tackles moving and gripping topics."
Mel Turner-Wright
Lanterns light the way
Children and adults from North Swindon hail the first lantern parade a great success...

12 March 2008