Date added: 10 March 2008
High winds hit Swindon
But luckily, we seem to have escaped the worst of it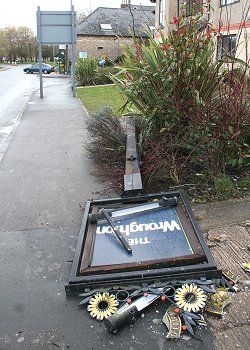 in Wroughton this morning
It was the worst storm of the year last night, but luckily Swindon came through relatively unscathed - for now anyway.
The Highways Agency reporting a number of minor incidents this morning, including branches blocking a road in Blunsdon, and a similar obstruction in Wroughton.
Fortunately for town centre residents, damage was limited to dustbins being blown over and recycling boxes blown off pavements.
The Met Office have reported however, that high winds and rain will be returning to the area later on today.
Motorists are urged to take care.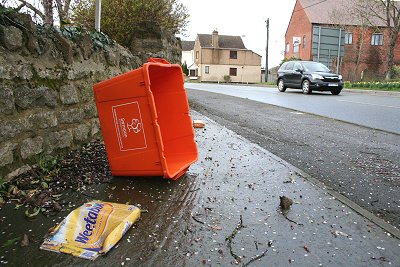 residents and motorists are urged to look out
for debris and other items - most notably the orange
recycling boxes - blown on to pavements and roads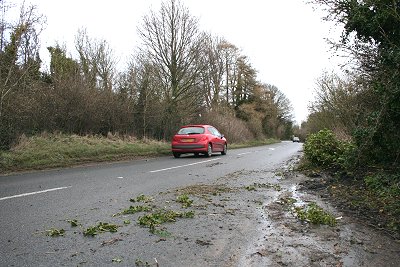 high winds are all set to return this afternoon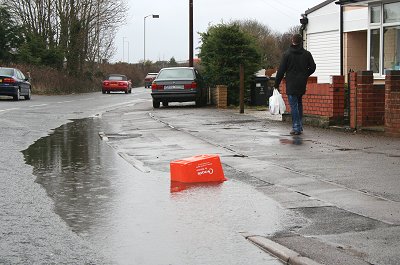 yet another orange recycling box
caught in the middle of the bad weather
Mel Turner-Wright
Water Taxi Required!
But it's too late for this cab driver (and passengers?), as floods on Queens Drive cause traffic chaos - PICTURES

07 February 2016

Mini Bow Wave!
It pays to be in a 4x4 at Bruce Street Bridges today...

29 July 2013

Deluge Swindon
The day the heaven's opened on Swindon - literally! - PICS & VIDEO...