Date added: 10 March 2008
SwindonWeb win at 'Scruffs'
Our West Highland Terrier all set to become Supreme Champion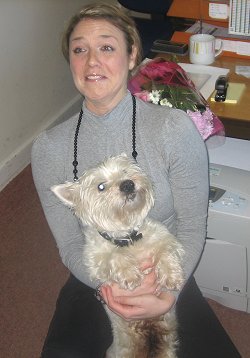 the word
'bath', our Milo
doesn't seem quite so keen
With so much talk about Crufts this weekend, it got us thinking about our own office dog, Milo.
The wee little West Highland Terrier, a breed apart as far as we're concerned - but not exactly trimmed to win big prizes at the world's biggest dog show.
To be honest, Milo is definitely more 'Scruffs' than Crufts, bless him.
But seeing all those pampered pups got us feeling a bit guilty.
So it's off to a poodle parlour for Milo this week, in what you could say is our first canine SwindonWeb Adventure!
Quite how he'll take to being bathed and trimmed while we film him (let's face it, when was the last time you were videoed in the bath?) we're not sure, but we do know the results will have our boy feeling like a Supreme Champion.
'Milo: The Movie' coming soon!...
Mel Turner-Wright
Top dog!
SwindonWeb's Milo gets a pampering - see gallery!...