Date added: 12 March 2008
No Smoking Day 2008
Today's the day to stub it out!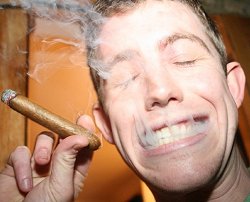 It's National No Smoking Day, and the Swindon NHS Primary Care Trust are doing all they can to encourage people from across the town to stub it out.
ASDA stores in North and West Swindon are handing out free guides for quitting, with specialist advisors on hand to test carbon monoxide levels in people's bloodstream.
But this year's event has a twist, with 'The Great No Smoking Day Challenge', urging people to quit smoking for an entire week.
And with smoking bans in place across the country, there's been no better time to take the leap and quit for good.
Dan Tickle, Chief Executive of the No Smoking Day charity, added:
"Stopping smoking is the ultimate lifestyle overhaul. You'll feel fitter, healthier and have more energy and money.
"Over 12 months, a 20-a-day smoker could save over £2000! By using the help and support of your local NHS Stop Smoking Service, it is four times more likely that you will stay smoke free!"
Mel Turner-Wright