Date added: 13 March 2008
Sports Round-Up 13 March 2008
Football - Swindon Town F.C.
Despite Swindon's recent run of poor results, boss Maurice Malpas remained up-beat about Town's prospects in our weekly video interview today.
Although the play-offs seem a very distant hope, he was adamant that the players would still be taking it one game at a time.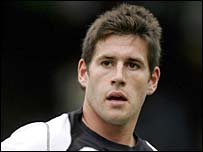 With the squad currently thin on the ground due a number of injuries and suspensions, Malpas has moved to secure the services of ex-Swindon loanee Michael Timlin for the remainder of the season.
"Michael brings something different to our squad, he has great ability on the ball and also good quality at set-pieces which will benefit us," the Robins' boss insisted.
But the Town manager was also the first to admit the one thing he wouldn't want to change was the team spirit at the club.
"The players have a great camaraderie and I don't think there is any team in the league that has a better spirit within the club than us," added the Town boss.
However, with Carlisle the visitors at the County Ground on Saturday, Swindon fans will want to see points rather than performances..
Football - Swindon Supermarine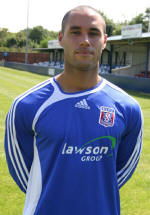 Supermarine recorded their fourth successive draw on Saturday against Clevedon Town. A result that leaves them remain firmly in mid-table.

However, Marine managed avenged their humiliating 6-0 defeat to the same side last month in the Errea Cup.

The major flash point in the game being the sending off of Nathan Lightbody only minutes after coming on for head-butting Clevedon defender Josh Brigham.

A moment of madness only moments after striker Mitchel Page had given the visitors the lead with a well taken header.

Lightbody's lack of discipline looked to have cost his side their seven game unbeaten run, but Leigh Henry salvaged a point for Swindon with a late equaliser.

The result leaves Marine nine points clear of relegation and 10 points off of a play-off place.
"With nine games left we have our future in their own hands," manager Mark Collier told us.
Ice Hockey - Swindon npower Wildcats

Wildcats secured their play-off birth with a Shootout victory over local rivals Bracknell Bees at the Link Centre on Saturday.

An emphatic Ciaran Long's penalty - and other results going their way - giving Swindon the points they needed to secure a post-season spot.

The Cats found themselves all tied up in regular time with goals from Jamie Hayes, Joel Petkoff and Lee Richardson but were unable to secure victory in overtime.
But when Long's slap shot found the back of the net the Link Centre crowd realised that the play-off dream had become a reality.
Sunday's visit to the Isle of Wight provided a harsh reality check, however, with the team going down 7-2.
"Once the play-off fixtures have been released, we can make plans for the post-season push for the title," said head coach Peter Russell.
Cheltenham - Swindon first past the post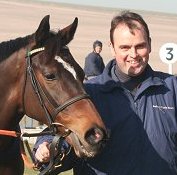 It's already been a week to remember for Swindon trainer Alan King - and it could be an even better one for local punters if 'Man from Highworth' comes good on Friday.
King's horse Katchit the superb 10/1 winner of the prestigious Champion Hurdle on Tuesday, before Old Benny bagged the Peter O'Sullevan National Hunt Chase on Thursday at 9/1.
And with King's Gold Cup hopeful Halcon Genelardais liking the testing ground it remains to be seen whether the Barbury Castle handler can make it a triumphant triple.
And if that's not enough, the race straight after the big one - and over the same course - has more than passing local interest as well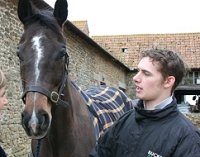 For it's in the Foxhunters Chase that horse 'Man From Highworth', trained by eight-one-year-old John Manners, has a chance described by many racing experts as 'considerable'.
"He can do it. There's no doubt about that," Manners, who won the race with Caverero in 2000, told us this morning.
"He's in great nick and looking forward to it. As I am. I've had Cheltenham winners before and I fancy this could be our year again."
Man From Highworth is currently a 12/1 shot.