Date added: 17 March 2008
''Our Little Soldier''
7-year-old Swindon boy killed - but will the speeding stop?
A Swindon boy was killed on Friday evening, when an out-of-control car struck him on Drove Road.
who was tragically killed

Tragedy on Drove Road:


the spot where

Tyrese
7-year-old Tyrese Hannah, from Old Walcot, had been walking with his mother and two dogs at around 5.45pm when he was mowed down by the car.
He died later that evening in hospital.
The driver, a 19-year-old from North Swindon who escaped unscathed, was arrested at the scene and later released on bail.
One of the two dogs was also killed at the scene.
This was the third serious accident on this road in as many months, but today - just three days after Tyrese was killed - cars were still speeding past the spot where he was knocked down.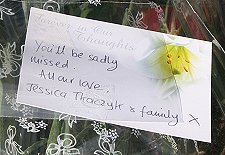 "You'll be sadly missed":
Drove Road resident Brian Wilkins said: "It was a terrible accident, and now this young child has lost his life.
"The council had a meeting with local residents a few months ago about the dangers of this corner, but nothing seems to have been done about it.
"The very least they could do is put up some barriers along the road. It should never have come to this."
Mel Turner-Wright
Fatal Crash
Accident claims life of teenager driver on Wharf Road in Wroughton - UPDATED...

02 November 2009