Date added: 18 March 2008
Royal recognition for Swindon
Earl of Wessex praises Duke of Edinburgh achievers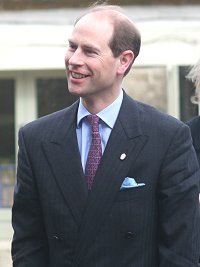 Smiling for Swindon:


the Earl of Wessex at
Lydiard House earlier today
The Earl of Wessex was at Lydiard House today to mark the start of a campaign encouraging Swindon businesses to get involved with The Duke of Edinburgh Award.

HRH Prince Edward had lunch with members of Swindon Borough Council and employers from some of the town's top businesses, to discuss the possibility of getting involved.

Three students were also honoured during the ceremony.

19-year-old Robert Morton, 21-year-old Alexandra Wojewodka and 25-year-old Victoria Cloete, received their Gold Award.

And all had the same message – that their experience has given them confidence and life skills – and that they would recommend the Award to anyone.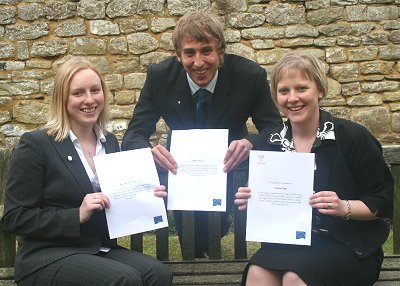 (l-r) Alexandra Wojewodka, Robert Morton and
Victoria Cloete, with their Gold Award certificates

Geoff Hogg, Director of Services to Children and Young People at Swindon Borough Council, said: "In gaining these awards, young people learn by experience the importance of commitment, enterprise and effort.

"Through a commitment to its programmes, they acquire self-reliance and a sense of responsibility to others, both essential qualities of citizenship, which is why businesses will find the programme an important vehicle for staff development."
Mel Turner-Wright

Earl of Wessex at Lydiard House - 18/03/2008