Date added: 20 March 2008
What a crack!
A cracking start to the Easter weekend in the town centre
Easter got off to a cracking start this morning, with an egg and spoon race in the town centre.
Following on from a pancake race back in February, the race was another success story for the town centre management company, inSwindon.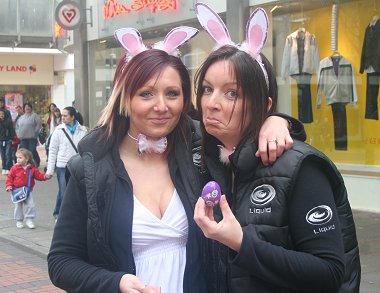 staff from new club Liquid & Envy, look
disappointed after being disqualified in
the egg and spoon race
More than 20 members of staff from retail and food outlets in the town centre lined up in their teams for the relay race along Canal Walk.
And although it was smiles all round, the tension was certainly high.
Particularly when the team from Liquid and Envy night club (formerly the Brunel Rooms) were disqualified for holding their thumbs over the egg - a controversial decision which the inSwindon judge, Brian Northcote MBE, stood by.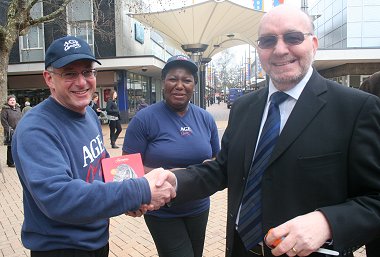 Charity organisation Age Concern celebrate after
winning the 2008 egg and spoon race
By default, Jo Osorio and Val Newell from Age Concern were crowned champions - both receiving a personalised chocolate egg and the infamous 'golden spoon'.
inSwindon's Operations Director, Bernie Maguire (who, coincidentally, took gold at the pancake race) said:

"I'm disappointed I didn't win the race this time, but it's great to see someone a bit older taking the victory."
Mel Turner-Wright

Easter Egg Race - 20/03/2008