Date added: 27 March 2008
Sports Round-Up 27 March 2008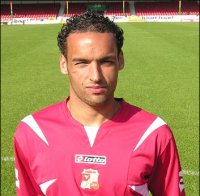 Kaid Mohamed returns
from Torquay
Following an Easter to forget Maurice Malpas gave his thoughts on what went wrong and how things are going to change in his weekly video interview today.
With Town now struggling in 15th place in the table the boss is looking for two more wins to ensure his side are safe and will then be looking to give some of the younger players a chance.
"We need a couple of results then we can look to bring in some of the fringe players and youth team in and see what they have to offer," said the boss.
With players like Kaid Mohamed back from his loan spell at Torquay and youngster Sean Morrison on the brink of the first team, the Town boss won't have a shortage of players looking to impress.
But with a number of player's whose contract are up at the end of the season, Malpas knows that there will be some tough decisions to be made over the coming months.
"Telling players that they don't have a future at the club is never a nice thing to do but it's part and parcel of being a manager so it is something I just have to do," added Malpas.
On the injury front Jamie Vincent will return to the squad for the trip to Tranmere, but the unfortunate Barry Corr is facing a lengthy spell on the sidelines with a re-occurrence of his troublesome shoulder injury.
The big Irishman will be visiting a specialist in the next couple of days to assess the extent of the injury.
Ice Hockey - Swindon npower Wildcats
Hoping lightening doesn't
strike twice:
Pete Russell talks ahead of
this weekend's fixtures
against Milton Keynes
Cat's head coach Pete Russell was on hand today to give his verdict on his sides performances against Bracknell last weekend.
With one win and one loss he declared himself happy, but is more than aware there is a lot of hard work ahead if they are to qualify for the semi-finals.
The Wildcat's got off to the perfect start with a 2-1 victory on Saturday at the Link Centre, but they were unable to complete the double on the Sunday as they lost the return leg 6-3.
"We put so much into the first game, the guys just didn't have anything to give come the Sunday," said Russell.
But with a week of rest and recuperation the team face Milton Keynes in a crucial double header this weekend, and Russell knows how important a positive result could be.
"We are probably going to need two more wins to qualify for the finals weekend so if we can play well against the Lightning we have a chance of making it," added Russell.
Football - Swindon Supermarine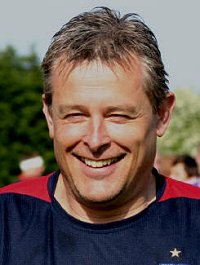 All good things come
to an end:
Mark Collier following Marine's
loss to Bashley
Marines 10 game unbeaten run was ended in freezing temperatures on Monday night, as the team went down 2-0 at home to Bashley.
A poor first half display was the root of the problem, with the home side going into the break with the two goal deficit already in place.
Doing the damage for Bashley was their impressive strike duo of Ryan Moss and Craig Davies who had been targeted by Mark Collier before the game.
"I had warned the guys about their front two before the game but they didn't take note and we got punished for that," said Collier.
However, a better performance in the second-half gave the boss something to be pleased with.
"On a positive note, I thought we were excellent in the second half and it was largely backs-to-the-wall stuff for them," added Collier.
The result has all but ended Swindon's play-off dream as they slipped to 13th in the table and thirteen points off of the 5th placed team who ironically are Bashley.
Speedway - Swindon Robins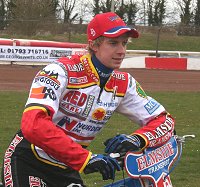 James shows what he's
got at Poole
The Robins have been left with a mountain to climb in tonight's Craven Shield return fixture at the Abbey Stadium against Poole.
Having lost the first meeting 54-39 on Wednesday night, Leigh Adams and his young side will have to pull out all the stops if they are to overturn the 13 point deficit.
Once again Adams was the star of the show with a paid 16 points haul, but young Englishman James Wright also proved his credentials with an impressive paid 6 points return.
The main cause of the loss was the 'lottery' of a gate situation at the Wimborne Road track.
Gates 1&3 were by far the better ones with gates 2&4 being slammed by Robins boss Alun Rossiter as 'nothing short of a disgrace'.
However, with the whole Robins squad fired-up for tonight's encounter Adams is confident that they can prevail this evening.
"I know it's a big ask but I know the guys can do it," added Adams.
Golf - David Howell & Jason Hempleman
Howeller announces the split
from coach Clive Tucker
Following David Howell's poor recent form and another missed cut at the Bay Hill Invitational, the Ryder Cup man has decided to part company with swing coach Clive Tucker.
In an attempt to regain the form that saw him rise to number 9 in the World Rankings, the Broome Manor man will be working with a new swing coach over the coming months.
The end to the six year relationship was announced by Howell whilst he was attending an event for his sponsors CA last week at the World Golf Championship Tournament at Doral.
However, it's not all doom and gloom for Swindon golf as Howell's former caddy Jason Hempleman has recently joined up with European Tour legend Colin Mongomerie.
The Broom Manor member will be hoping to help Monty qualify for this year's Ryder Cup and in doing so ensure Swindon has a representative at the Tournament for a 3rd successive time.
Cox on target
Swindon boxing star tells SwindonWeb he's ready to step up after easy win...