Date added: 01 February 2008
Police man's best friend
PC Sampson reunited with his heroic dog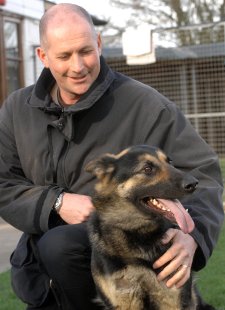 brave dog Anya are reunited
Less than four weeks ago, PC Neil Sampson was stabbed in a frenzied attack in Liden, after approaching an individual who was suspected of a separate offence.
Stabbed in the leg, head and face, Neil's only saving grace was his German shepherd police dog Anya, who managed to restrain the suspect despite the fact that she was also stabbed in the chest.

And today, after weeks of rehabilitation and treatment, Neil and Anya were ready to be reunited for the first time since the shocking incident.

PC Sampson said: "I'm just so glad to be taking Anya home again. She has saved my life, and I'm going to spoil her the way she deserves – with a big juicy steak!

"It may sound strange but I feel like having Anya back at home will put my life back on track. I've missed having her around all day."

Coincidentally, today was also the start of the trial of a Somali man suspected of carrying out the attack.
Mel Turner-Wright