Jonathan Ross gets a Swindon surprise
Mystery of 80s pictures of BBC star found at Holiday Inn
Swindon got a surprise mention on 'Friday Night with Jonathan Ross' last night - thanks to the Holiday Inn.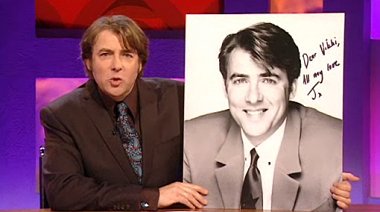 Jonathan Ross, with one of the pictures found
abandoned at the Holiday Inn
The TV chat show host showed off pictures sent in by staff at the Coate Water-based hotel, after they cleared out an old store cupboard last weekend.
And in there, gathering dust - alongside a pair of false teeth and a prosthetic leg - were two portraits of Mr Ross from his Channel 4 days in the late 1980s.
The unusual find made even more bizarre by the fact they appeared to be signed by the 47-year-old broadcaster - one to 'Vikki' and the message 'all my love J x', the other to 'Amanda'.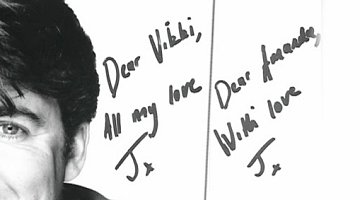 the signatures on the pictures that Ross says
aren't his. So who was it?
And are you Vikki or Amanda?
"I'm almost definitely sure I've never been to the Swindon Holiday Inn.... and that's not my signature!" Ross exclaimed.
"So twenty years ago, someone in the Swindon Holiday Inn pretended to be me, presumably to enjoy the fruits of Vikki and Amanda!"
When we contacted the Holiday Inn to get their reaction, and possibly shed some light on this mysterious find, the on-duty manager told us he knew 'nothing about the show' before having a complete sense of humour failure and putting the phone down on us.
In 2004, the hotel got an unfortunate mention on the TV show 'Gordon Ramsay's Nightmare Kitchens' when a chef employed there applied for a job at a restaurant Ramsay was trying to turn around.
The cook answering Ramsay's interview question: "So what sort of thing do you offer where you are?" with the immortal line.

"Steaks, and lots of microwave!"
The Inn place to be
Yes, it's true! Swindon's been named as a number one tourist hotspot...

18 December 2007