Date added: 11 February 2008
Cook up a treat for your Valentine
Top chef shows us how it's done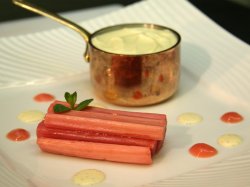 really impress your loved one
What's the most romantic thing you can do on Valentine's day?

Here at SwindonWeb Towers, we put our heads together and came up with something that we think will really earn Brownie points this year.

Cook up a tasty dessert.

We picked a pudding because it's the last thing you eat – and if done right, can help forgive any mistakes made earlier on in the meal.

But we're not suggesting you kidnap Gordon Ramsay and force him to cook up a treat – now that would be silly.

But we have got the next best thing...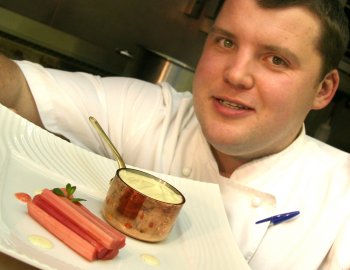 William Guthrie cooks up a treat for SwindonWeb

We visited William Guthrie at The Highworth to see how simple it is to create the perfect ending to a perfect evening.
White Chocolate & Pernod Mousse
Ingredients for the Mousse:

300g White Chocolate
300g Double Cream
1 ½ leaves gelatine
85ml warm water
Ingredients for the Compote:

200g Rhubarb
50g Caster Sugar
Slice of Root ginger
100ml water

1. Melt Chocolate in a bowl on a pan of simmering water
2. Soak gelatine in warm water until soft
3. Semi whip double cream
4. Pour water and gelatine into chocolate
5. Fold cream into the chocolate
6. Place into a ramekin
1. Place water, sugar and ginger in pan and simmer
2. Cut Rhubarb
3. Place in water, cook for 1-2 minutes until just soft
4. Take out of water and serve chilled
And just watch the video to see how it's done!