Date added: 11 February 2008
Wind of change
Wind turbines change the landscape of Swindon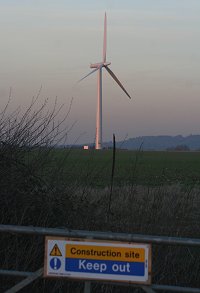 one of the new wind
turbines,
Drivers arriving in Swindon along the A420 have been greeted by a dramatic new sight this week - the new wind turbines just outside Shrivenham.
Five 49 metre masts have now been erected, as part of a local green initiative at Westmill Farm, near Watchfield.
A £7.6 million pound project that hopes to harness enough natural energy from the wind to power more than 2,500 homes with pollution-free electricity.
The inititative is the first onshore wind farm to be built in the south-east of England and is 100% Community owned.
It is hoped the wind farm will be fully operational later this summer.

renewable energy is on the horizon for Swindon
Mel Turner-Wright