Date added: 18 February 2008
Melinda Messenger speaks out
Education is key to model's move from Swindon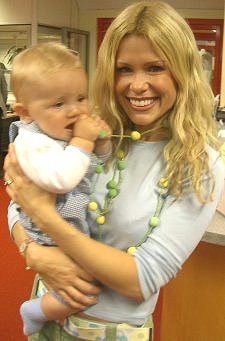 Swindon-born model left her
home
town to find alternative
education for her three children
Swindon supermum Melinda Messenger has spoken out about the state education system in England.

The mum of three admitted to the Sunday Express newspaper this weekend that her family's move to Berkshire two years ago was a result of schooling for her children.

Melinda and husband Wayne were forced to move in order to gain places for their children at a Steiner-Waldorf school, where children don't start formal academic education until the age of 7.

The Steiner-Waldorf system is widely used across Europe, and Melinda hopes that this method, which allows children to develop physically and socially before focusing on academic learning, will become more popular in England.

Voted Celebrity mum of the year in 2003, Melinda is passionate about her children, and strongly believes that her three children, Morgan, Flynn and Evie, will benefit in the long run.
Mel Turner-Wright
Melinda's a top mum!
Our favourite Swindon girl named one of Britain's sexiest mums...

04 March 2008