Date added: 18 February 2008
Can King reign once again?
SwindonWebTV takes a look at the Swindon trainer's hopefuls for Cheltenham next month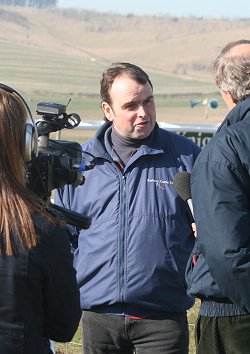 SwindonWebTV interviewing Alan King
ahead of the Cheltenham Festival
With the Cheltenham Festival just three weeks away, Swindon trainer Alan King is once again the centre of attention.

His success at last year's festival, where he enjoyed a magical week with three winners, poses the inevitable question: can he repeat his success in 2008?

King was happy to talk about his chances, and show off his 20-strong team that is likely to feature at Cheltenham next month when we visited his Barbury Castle stables today.
Putting the questions to Alan for SwindonWebTV, Jonathan Powell.

Alan King at Barbury Castle - 18/02/2008
Fancy A Flutter?
Swindon runners and riders to look out for today at Cheltenham - FRIDAY...

The King's Speech
Swindon trainer talks to SwindonWebTV ahead of the Cheltenham Festival...

John Francome
Swindon gee-gee genius and seven-times champion jockey...