Date added: 21 February 2008
Surviving Swindon
Lifeline for worse-for-wear women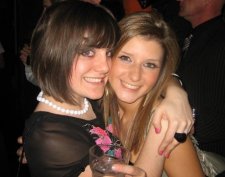 Weekend revellers in Swindon should feel a lot safer after a new initiative was launched to help drunken women make it home unharmed.
Survival kits containing all you need to make it home safe, are being issued by Revolution and Walkabout on Friday and Saturday nights as part of the Swindon Community Safety Partnership.
And we put it to the test, but for legal reasons, we cannot show you the pictures from the night!
We can vouch, however, that the flip-flops - and the water - came in particularly handy!
The survival kit includes:
After hours of smooth moves on the dance floor, there comes a point when you just want to take your 6 inch heels off - but it's not until the morning after that we realise the results of walking home bare-foot.
That's where these flip-flops come in handy.
Alcohol dehydrates you - so ironically the more you drink, the more dehydrated you get.
That's why this nifty bottle of water is perfect to quench your thirst - sensibly - and help you sober up.
Alcohol also affects your blood sugar levels, and often you can feel more 'drunk' than you actually are because of a lack of sugar.
So a few sucks on this sweet lolly could also sober you up.
We think this is pretty self-explanatory, and frankly, we're a bit embarrassed to talk about it - so we'll leave it to your imagination.
And as the saying goes - if you can't be good, be careful!
Safety is the key to getting home in one piece, so whatever you do - keep this personal alarm on you at all times.
If you feel threatened at all, sound the alarm - it's better to be safe than sorry.
This one's simple - not only can you keep all your items together, you'll also be able to carry your shoes home once you've donned the flip-flops.
And if you needed any more reason to keep it, then perhaps you could use it to remind yourself not to drink so much next week.
So when you're out this weekend, stay safe - and remember that avoidance is the best form of prevention.
Mel Turner-Wright