Date added: 27 February 2008
Shakin' Swindon!
Earthquake tremors felt across the town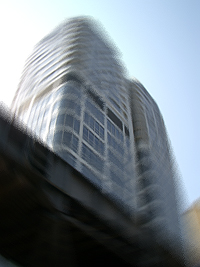 Swindon was shaken and
stirred last night
An earthquake hit England last night, leaving at least one person injured and hundreds of buildings damaged - with people in Swindon shaken up as well.
But it wasn't until this morning that residents realised the strange occurences just before 1am this morning - from rattling windows, to tingling sensations in their feet - was a result of a quake measuring 5.2 on the Richter scale.
Reports came in from Old Town to Taw Hill - infact, people from all over claimed to have felt the shockwaves.
Thankfully there were no reported injuries in the Swindon area.
The majority of the damage was caused around the epicentre in Lincolnshire, but effects were felt across the country.
"

I was scared witless when it happened.
My bed hasn't shaken so much in years!

"
Mel Turner-Wright
Water Taxi Required!
But it's too late for this cab driver (and passengers?), as floods on Queens Drive cause traffic chaos - PICTURES

07 February 2016

Mini Bow Wave!
It pays to be in a 4x4 at Bruce Street Bridges today...

29 July 2013

Deluge Swindon
The day the heaven's opened on Swindon - literally! - PICS & VIDEO...