Date added: 28 February 2008
Sports Round-Up 28 February 2008
Football - Swindon Town F.C.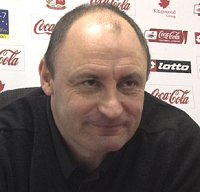 Maurice Malpas looking to the
Despite Town's disappointing haul of one point from the last three games, boss Maurice Malpas was still in a defiant mood today at his weekly press conference.

Having only managed a draw on Tuesday night at Oldham following the disastrous loss to Walsall at the weekend, Malpas and the team were keen to put those games behind them.
"I was pleased with the lads' response following Saturday but once again a sloppy 20 minutes on Tuesday night has cost us," said Malpas.

With a massive game against Leeds this Saturday the Scot is hoping Town can secure all three points – a result that would go some way to making up for the last few games.

With the club expecting a crowd in excess of 14,000 at the County Ground the team certainly won't be lacking support for the fixture.

"I'm sure all our players will be relishing the opportunity to play in front of a crowd and in an atmosphere like that," he added.

The Town boss is also adamant that if the team can put a run together then the play-offs are still a wholly realistic ambition.

We also took the time out to speak to two-goal hero Lee Peacock on his views of the last few weeks.

Town's inspirational midfielder is adamant that the second goal against Oldham was indeed his, despite Simon Cox trying to claim the last touch.

"In all honesty all I saw was the ball going towards the net, but I'm definitely claiming it," said Peacock.

He was also in full agreeance with boss Maurice Malpas that the play-offs were still well within reach.
Football - Swindon Supermarine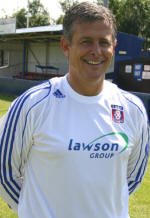 Supermarine's play-off ambitions were dented last weekend with a disappointing 0-0 draw at home against a struggling Mangotsfield side.

Despite some difficult conditions at Hunts Copse neither side managed to create any real clear-cut opportunities.

The result leaves Marine 12th in the table, with both promotion and relegation still possible.

With 12 games left and a potential 36 points up for grabs, Mark Collier will no doubt be demanding one last effort from his players as they look to push for the final play-off place.
Ice Hockey - Swindon npower Wildcats

The Wildcats' push for a play-off place got off to the best possible start with a comfortable 6-3 victory against the Milton Keynes Lightning at the Link Centre.
Saturday's victory was set-up by a fantastic opening period where they raced into a 3-0 lead.
Despite a spirited come-back from Milton Keynes, two late goals from Joel Petkoff and Jan Vrtik completed the victory.
However, Sunday's trip to Sheffield to face the Scimitars was a total contrast.
Pete Russell's men were ripped apart by a rampant Sheffield side, with a Joel Petkoff goal the only consolation for the Cats.
But with only three weekends of fixtures left before the play-offs, the Wildcats are currently sitting in 7th place and looking to secure one of the final spots.
Rugby - Swindon Rugby Club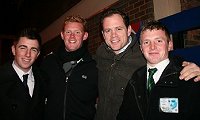 Swindon Rugby Club players
It may not be the Six Nations this weekend but Swindon will still be scrumming down against Beaconsfield.
With Swindon handily placed in the Southern Counties North Division, a win on Saturday could see them leapfrog their opponents into third place.
The team's home form has been fantastic, but they have struggled away from home of late.
However a repeat of the 37-6 drubbing earlier in the season will go some way to make up for their recent poor away form.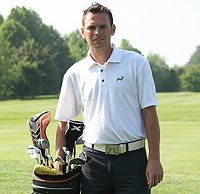 Martin Sell off on a 'Challenge'
Wrag Barn's Touring Professional Martin Sell embarks on his biggest challenge to date.
Not only is he stepping up a level to the Challenge Tour, he is also travelling to war-torn Kenya to further his professional dream.
However, he hasn't taken the decision to play lightly.
"I have spoken to David (Howell) about travelling and he said there would be no problems," said Sell.
"In all fairness I will only see the airport, hotel and golf course so I'm sure I'll be fine," he added.
Having spent the winter months fine-tuning his game with swing coach Clive Tucker, Martin is hoping all his hard work will have paid off.
"I'm very comfortable with my game at the moment and all the work I have done seems to be coming to fruition," said Martin.
During the winter months Martin has been working to support his golfing exploits but he is still looking for sponsorship from local businesses, to help fund his upcoming season on the Euro Pro Tour.
If you would be interested in helping Martin then please contact him at:
martin@martinsellgolf.co.uk

Martin Sell - website