Date added: 02 January 2008
Billie ties the knot
Celeb wedding kick-starts the New Year
Billie Piper has already made the headlines in 2008 - hitting the front page of the Daily Mail with her understated wedding.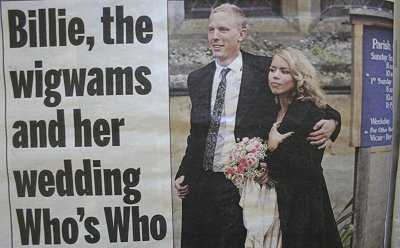 Billie Piper and her new husband Laurence Fox who
got married on New Year's Eve

The Swindon-born starlet and her fiancé, actor Laurence Fox, tied the knot on New Year's Eve in a 50-minute service held at a quaint village church close to their West Sussex home.

The day started with a few drinks in a local pub before moving on to the ceremony, after which Mr and Mrs Fox and their guests danced the night away at an evening reception held in four interlinked wigwam-style tents.

In fact, the only thing that hinted at celebrity was the impressive guest list – including Billie's ex-husband Chris Evans, and his new wife Natasha Shishmanian.

It just goes to show that glitz and glam isn't always the way to get attention, and we're proud of our Swindon girl for breaking the mould.
Mel Turner-Wright
Billie Piper
Swindon's pop star turned award-winning actress...