Date added: 02 January 2008
Let it snow, let it snow, let it snow!
Snow time Swindon could be here again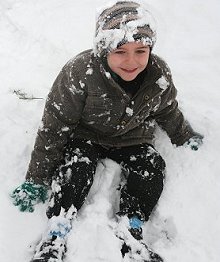 Christmas has been and gone, and although the big man in red obviously dropped in to the town, there was something definitely missing...

Every year we wait in hope for a glimpse of snow, and every year we have more chance of seeing pigs drop from the sky than glistening snowflakes.

But wait! The weather man is on our side, and has decided to give us a late Christmas present - with snow forecast for tomorrow!

So if you're in need of some snow activity inspiration, check out our video and gallery from last year...
Mel Turner-Wright