Date added: 03 January 2008
Do you know Olive?
The tragedy of a life forgotten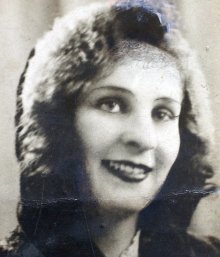 Olive Archer in her younger days
When you see a picture of a beautiful, smartly-dressed woman in her youth, you could never imagine her being forgotten by the world.

But tragically that seems to be the fate of 83-year-old Olive Archer, who passed away a few days before Christmas, having spent most of her life in Swindon.

Her funeral is due to take place at Semington Crematorium on 14th January, but as things stand the only attendees will be the funeral director and Reverend Akasha Lonsdale, who is leading the service.

Having never married, Olive has no immediate family, and the only chance of a relative is a possible sister whom Reverend Lonsdale is trying to track down.
Reverend Akasha Lonsdale is

hoping to find Olive's sister

away just before Christmas

Unless anyone who recognises this old lady comes forward, it seems that she may sadly meet the unfortunate end which we all dread.

If you think you may have known Olive, and would like to pay your last respects, please call Reverend Lonsdale on 01249 813188.
Mel Turner-Wright