Date added: 11 January 2008
Legendary Mountaineer
Swindon's David Hempleman-Adams pays tribute to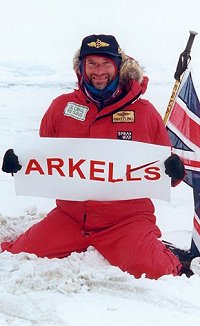 seen here after successfully
trekking to the North Pole
Swindon explorer David Hempleman-Adams has paid tribute to Everest conquerer Sir Edmund Hillary, who suffered a heart attack and passed away last night.

Sir Edmund was the first man to climb the world's highest peak, when he completed the first ascent of Mount Everest alongside Sherpa Tenzing Norgay in 1953.

The pioneering mountaineer and 20th century icon passed away aged 88, after a lifetime of personal achievements, including a great deal of charity work through his own Himalayan Trust.

"He was a hero of mine, and his accomplishment on Everest inspired me to follow in his footsteps," commented Mr Hempleman-Adams, who climbed the world's highest mountain himself in 1997, and also attempted a flight in a balloon over the peak in 2001.
A world-record breaking attempt that was only aborted after flight restrictions were brought in following the events of 9/11.

"To be the first man to scale that mountain was truly incredible. He was going in to the unknown, fully aware of the huge dangers involved.
"For that he will always be remembered," Hempleman-Adams added.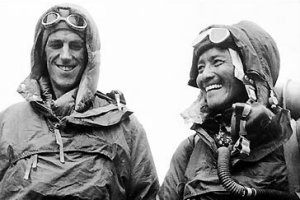 Sir Edmund Hillary and Tenzing Norgay
during
their succesful ascent of Everest in 1953
The Swindon adventurer, who is currently in Canada preparing for another expedition, will certainly feel the loss of the 20th century's most famous explorer.

Hillary's relatives have agreed to a state funeral, which will be broadcast live on television in his home country of New Zealand.
Mel Turner-Wright
Arise, Sir David!
Swindon's record-breaking explorer Knighted in the New Year's Honours list.....

31 December 2016