Date added: 14 January 2008
Star-studded stay in Highworth
New B&B is a real success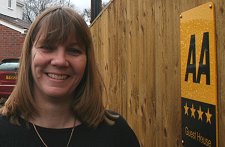 Highlands owner Dawn Murray
With Swindon being named the UK's fastest growing tourist destination in 2007 by hotel chain Holiday Inn, it's no surprise that we can now add another welcoming hotspot to the list.

Highlands Bed and Breakfast in Highworth has seen a roaring trade ever since it opened in October, and has plenty to offer guests from far and wide.

With four rooms available – each tastefully decorated to its own colour scheme – friendly staff, and a welcoming dining area, the four star rating they've just received from the AA is well deserved.

Ratings were based on cleanliness, en-suite facilities, breakfasts made with local produce, hosts and level of housekeeping – for which Highlands received full marks.

And a stay here won't cost you the earth either.

A single room is available for £50 including breakfast, while a double can be booked for just £10 extra. A discounted price of £45 is also given for a stay of 3 nights or more.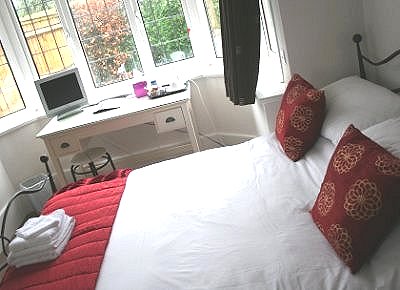 a downstairs bedroom with disabled facilities

Highlands owner, Dawn Murray, said: "I've always wanted to run my own Bed and Breakfast, and when this house came up for sale, we saw real potential.

"We've had great feedback already, and I'm really pleased to have received the AA's four-star rating. It means a lot for our reputation because our name is out there."

If you are interested in a stay at Highlands, contact Dawn on: 01793 765131.
Mel Turner-Wright
The Inn place to be
Yes, it's true! Swindon's been named as a number one tourist hotspot...

18 December 2007