Date added: 16 January 2008
PRIDE of Swindon
Council workers awarded for exceptional effort in 2007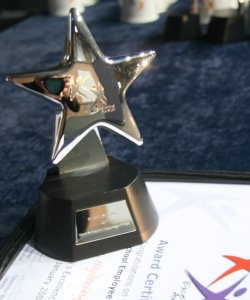 50 members of Council staff received
awards for their hard work last year
With so much change across the town, 2007 was a challenging year for Council staff, and yesterday their efforts were recognised.

More than 50 members of staff – from plumbers and teachers, to planners and project workers – were presented with certificates and trophies at an Excellence Awards ceremony held at the Steam museum.

Karen McFadyen, from Haydonleigh primary School won an award for her role as kitchen manager, where she has reintroduced the provision of school meals, and has even started using vegetables grown by the children themselves in the school garden.

Peter Greer, insurance manager at the Council, received his PRIDE award for allocating £50,000 of government money to people in Swindon who were financially damaged by the floods last July.

Terry Sharpe also received a PRIDE award for helping to introduce the new waste and recycling service across the town, which has significantly reduced the amount of waste being sent to landfill sites.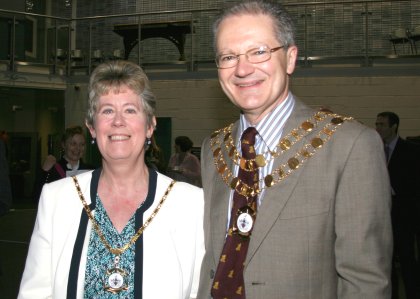 'Mayor I congratulate you':
Swindon Mayor, Cllr Michael Barnes,
with the Mayoress at the awards ceremony

Plumber Scott Joyce received a quality award for saving a resident's life whilst working on his bathroom. Scott was concerned about Colin Bradford's health when he went to fix a basin at his Upper Stratton home.

After a while, he soon realised that something was wrong, and managed to find out that Colin was diabetic.

Scott said: "I spoke to Colin's daughter, who confirmed he was diabetic. So I got Colin to eat some chocolate and his condition stabilised.

"I don't think I did anything spectacular, but hope someone would do the same for me."
Council leader, Rod Bluh, was on hand to deliver the awards.
He said: "This is an opportunity to say a big thank you for the great job they do. Many of them work tirelessly to raise standards and deliver higher quality services to the public.

"The Excellence Awards exemplify how the Council is committed to fulfilling promise number 14 of its 50 pledges to the people of Swindon – the Council will be a leading employer."
If you want to hear more on what the Council is pledging to do for the town in 2008, check out our video interview with those in the know...

Council Excellence Awards - 16/01/2008