Date added: 18 January 2008
Marathon mission!
Bev knows Watt she's got to do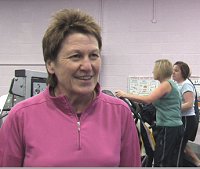 Bev Watts prepares for the
Running the London marathon is one of the most challenging sporting events of the year, and for the thousands who take part it can be a lifetime achievement.

So in our bid to get Swindon active this year, it's only right that we look to the marathon for some inspiration.

New College employee, Bev Watts, started running two years ago with the aim of losing weight, and would never have dreamt that her personal challenge would see her running 26 miles for charity.

But two years on and 4 dress sizes later, Bev is ready and raring to go.

She will be running the London marathon in aid of the Neurology and Neurosurgery Foundation Development and has already raised over £1,100 of a target £1,250.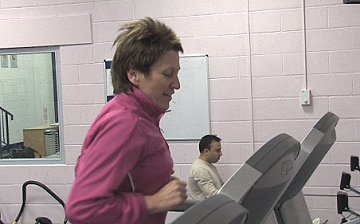 Looking for a personal best:
Bev training hard in the New College gym in
preparation for the 26 mile marathon this April

But Bev's journey in to a budding athlete hasn't been easy – and without the support of fitness co-ordinators at New College's gym, she admits she would've found it very difficult.

Dan Thorley and Nick Lowe have helped her every step of the way, as part of the gym's personal training scheme.

Bev told us: "I'm really excited about the marathon, it's more than I could ever have imagined doing. I've gone from not running at all in 2005, to running 30 or 40 miles a week at the moment.

"I couldn't have done it without Dan and Nick's help – they've really helped me push myself to improve."

The gym, which has been open to the public since 2004, attracts people from all across the town – and at just £20 a month with no annual obligation, it's been a small price for Bev to pay for her personal gain.