Date added: 23 January 2008
Jack Nicholson
Hollywood star puckers up to Swindon
It's never a dull night when you're out with SwindonWeb - as our Lesley found out in London last night.
SwindonWeb's senior administrator finding herself the fancy of Hollywood star Jack Nicholson no less, when Lesley bumped into the A-lister outside the Ritz Hotel.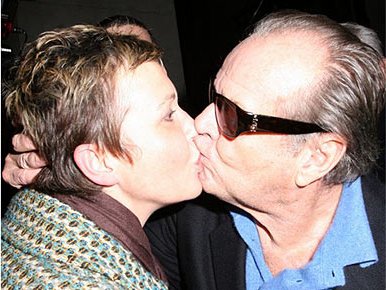 Lip service - Swindon-style:
our Lesley and Jack Nicholson get to know one another
The Batman star was more than eager to get up close and personal with our girl in a paparazzi scrum that included Mr Nicholson giving Lesley's mother-in-law, Wendy, a smacker on the lips too!
"He may be 70, but he's a great snog," Lesley told us in the office this morning - with no one quite believing her story until these pictures were published on the Daily Mail website!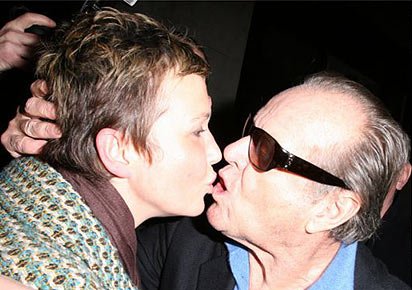 Jack Nicholson clearly enjoying himself with a Swindon beauty
Academy Award winner Nicholson, who is in UK to promote his latest film 'The Bucket List', enjoying his embrace while taking a cigarette break from the nearby Wolsey restaurant.
Lesley and Nicholson - who claims to have slept with over 2,000 women - besieged by photographers as they enjoyed their brief tryst.
Go girl!!!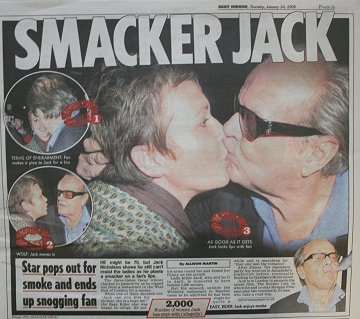 the big smacker makes a big splash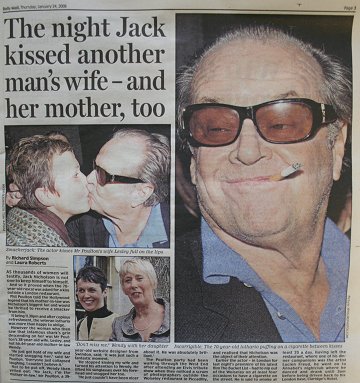 Swindon woman splashed across page 3

Daily Mail - Jack Nicholson - full story
Free hugs!
Swindon shoppers get a nice surprise...

17 March 2008

Elvis is alive!...
#Elvis40 ARCHIVE: the day we found The King serving fish and chips in Highworth! - WATCH VIDEO