Date added: 25 January 2008
Be a star!
Outlet Centre urges Swindonians to help terminally-ill children
Making a child's wish come true can be a heart-warming experience, particularly when that child is suffering from a life-threatening disease.
And the Swindon Designer Outlet have made it a whole lot easier to give generously – simply by donating unwanted clothes to the Make-A-Wish foundation.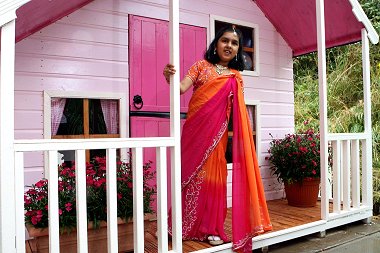 Wish granted for a garden playhouse:
7-year-old Farzana is living with a rare skin condition
that gives her increased sensitivity to sunlight -
Make-A-Wish gave her a fully-furnished pink playhouse

The Outlet Village will be collecting items at the information desk in the west mall, through the charity's UK agent, Clothes Aid.

With 20,000 children in the UK living with life-threatening illnesses, the Make-A-Wish foundation is a God-send to parents across the country.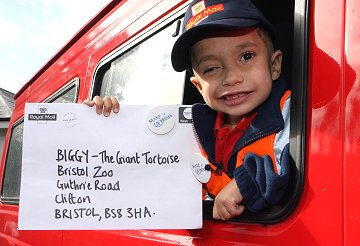 6-year-old Darin's was diagnosed with a brain tumour
at just 19 months, and wants to be a postman when
he grows up - a wish that Make-A-Wish made true

Karen England, fundraising director from Make-A-Wish, said: "Whether it is being a princess or a policeman for the day, meeting a favourite celebrity or just enjoying time away from home, a wish come true brings so much joy to a child's life and provides magical memories.

"By simply donating your unwanted clothes you know that you are helping bring a beaming smile to a child's face."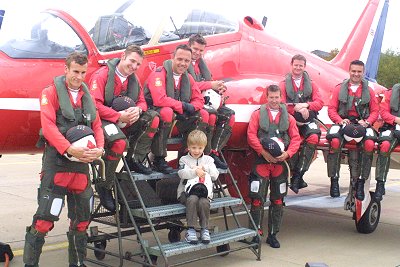 Make-A-Wish made Joshua's dream come
true
when he spent the day with the world famous
Red Arrows at RAF Scampton

Nick Williams, marketing manager at Swindon Designer Outlet, said: "This is a great way for people to donate to charity at the same time as having a much-needed New Year clear out.

"Rather than throwing clothes away, we are encouraging people to bring them to us and help us raise money for this worthwhile cause."
Mel Turner-Wright

Make-A-Wish Foundation - website

Clothes Aid - website
Thinking Pink!
Swindon pupils do their bit for breast cancer charities...

09 October 2008

Free flights!
Get more than you bargained for at the Swindon Designer Outlet this month!...

01 August 2008