Date added: 31 January 2008
Sports Round-up 31 January 2008
Football - Swindon Town F.C.
UPDATED: 01 Feb 2007 01.42am
Cox signs for Town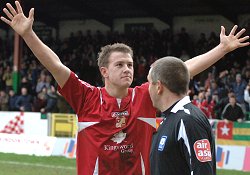 Simon Cox signs for Town right on
the deadline transfer
Right on the transfer deadline, Maurice Malpas has his man.
After a thorough medical at the County Ground last night, Reading's Simon Cox signed a two-and-a-half year deal in time to start against Northampton on Saturday.
Ironically, it was the Cobblers that were battling for Cox's signature right up until the last minute, but it was Town the striker plumped for after accepting a drop in wages.
"I enjoyed my loan spell here, so when Swindon were interested they were always my first choice.
"I'm delighted the deal has been done."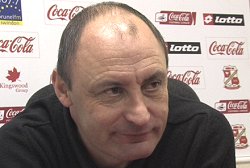 Town boss hoping to bring in
With the transfer deadline hour rapidly approaching Maurice Malpas is working hard to secure the services of Reading hitman Simon Cox.

However, things aren't quite going to plan with both parties some way off from agreeing a deal.

"At the moment we're a fair bit apart and my gut feeling is that it won't happen, but we will be trying to get a deal done," said Malpas.

The boss was also keen to state that if the Cox deal doesn't go through then he isn't worried and feels that his current squad is more than capable of making a successful bid for a play-off place.

With Town currently enjoying an eight game unbeaten run in the league, Malpas is happy the club is heading in the right direction.

Another positive to come out of the County Ground was the news that influential midfielder Lee Peacock has signed a new one and a half year contract with the club, keeping him there until next summer.

"Lee is a massive player for this football club both on and off the field and I'm delighted that he has decided to sign a contract extension," added Malpas.

With Northampton up next on Saturday at the County Ground the canny Scotsman will be without Pat Kanyuka who suffered a nasty gash down his forehead during the Luton game, but with Jerel Iffel back from suspension the boss still has a large squad to pick from for the game.

New Youth Team boss Paul Bodin was also keen to praise his side who overcame Premiership Middlesbrough on Tuesday in the fourth round of the F.A. Youth Cup. The victory was secured by two-goal hero Ben Joyce, but Bodin clamied it was a real team effort.

"The lads were fantastic and defended really well and Ben took his two goals brilliantly," said the delighted former Town favourite.
Football - Swindon Supermarine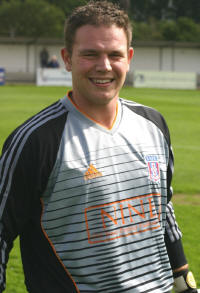 Supermarine's recent inconsistent form continued as they suffered a humiliating 6-1 hammering at title favourites Kings Lynn.
Despite the score being 0-0 after 40 minutes, from then on it went from bad to worse for Marine.
The home side took the lead through Michael Frew, and despite a Chris Taylor equaliser in first-half injury time, Marine still went into the break behind as straight from the restart Kings Lynn retook the lead through Jack Defty.
The second half was all Kings Lynn's as they scored four more goals to inflict Swindon's heaviest defeat of the season.
Manager Mark Collier used the four hour bus journey home to reflect on what went wrong and how they can change things for the better.
"I don't normally sit at the back with the players, but I went back there to have a word with the lads. I wanted to get their views on what they thought the problems were," said a dissapointed Collier.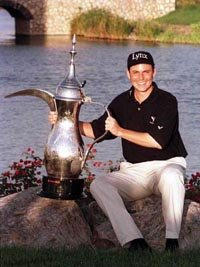 David Howell's love affair with Dubai continued today with an impressive opening round of 68 (-4) leaving him in a tie for 11th place along side Ernie Els and Sergio Garcia.

The Ryder Cup star has enjoyed a recent resurgence of good form which saw him secure his first top-ten finish for 15 months last week in Qatar, and will be looking to repeat his success of 1999 when he won the Dubai event.

However, Howell won't have things all his own way, and with the in-form Tiger Woods already top of the leaderboard the rest could be forgiven for thinking they were playing for second place.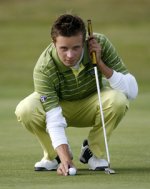 Broome Manor star Miles Mackman and his England team were pipped at the post in the Costa Ballena Quadrangular tournament in Spain.

Despite victories over Finland and Germany the team was unable to take the title, losing the final against hosts Spain.

Personally for Mackman the tournament was a success as he remained unbeaten in his singles matches securing three halves in his three matches, playing in the tough position of anchor man.



Speedway - Swindon Robins
Swindon Robins have announced two new sponsorship deals for the forthcoming 2008 season.

As well as continued support from Pebley Beach, who are in their sixth season of supporting the club, Redcare and A.C. Nurdens have also come on board.

Swindon Speedway's new sponsors
Pebley's Managing Director Dominic Threlfall explains, "the Pebley Beach brand is now synonymous with Swindon Speedway and we would like Hyundai to benefit from the same great exposure that the Suzuki brand has received over the previous years."

Former rider Kevin Pitts, who is Managing Director of Redcare, is delighted to show his support for the team.

"We are very proud at Redcare to be supporting Swindon Speedway in its sixtieth season. As a company, we endeavour to support the club and the team as a whole to gain success in 2008," said Pitts.

Likewise Managing Director of A.C. Nurdens, Andy Nurden is an accomplished motorcycle enthusiast who has been a fan of the Robins for a number of years.

"We are very pleased to be associated with such a high-profile sports team as the Swindon Robins and we are looking forward to a great year supporting the club," said Nurden.