Date added: 01 October 2005
Justin Hayward returns to Swindon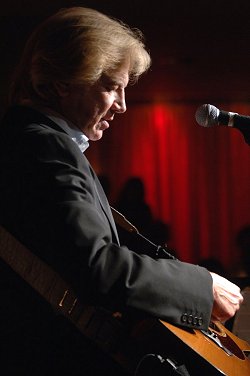 Back where it all started:
Music legend Justin Hayward has m
ade an emotional return to Swindon this weekend.

The Moody Blues frontman was back in his home town to play a one-off acoustic concert in aid of Children in Need - before taking time out to see the fruits of another memorable fundraising appearance he made here in 1991.

"I haven't been back for quite some time," he said, "but I always enjoy it."

"Swindon holds a special place in my heart and it's great to be back."

Invited to play by BBC Radio Swindon, Hayward travelled from his home in Monaco to appear in front of just one hundred of his adoring fans at the Apartment in Havelock Square.

There he held his audience almost spellbound with a two hour set of the songs that have spanned his illustrious 36-year career.
They included such classics as the million-selling 'Nights in White Satin', 'Forever Autumn' and 'Never Comes The Day'. He started his session with a track he admitted to writing one day at Lydiard Park in Swindon called 'Tuesday Afternoon'.

"I had a dog called Tuesday and I just took my old guitar out there - a big twelve string guitar - and sat in the corner of a field," he reminised.
Sounding as enthusiastic and as resonant as he did during the Moody Blues recording heyday in the 1970s, Hayward masterfully performed over a dozen songs during his brief time on stage; his vocal range still pretty phenomenal considering he will be celebrating his 59th birthday on the 14th of October.
The Dean Street-born star also added to the intimate atmosphere of the event by humourously sharing other memories of his life and boyhood growing up in Swindon.

During question and answer sessions between songs, Hayward remembered cheekily enjoying playing in pubs around the town when he was barely 15; working in an office at Bradley's while furiously answering adverts in Melody Maker; and, most notably, learning that he had got the job as the Moody Blues vocalist while looking at guitars in Duck, Son & Pinker in Fleet Street.

"That moment changed my life," he said, "and I'll never forget it."

After the gig, Justin hung around in the Apartment to sign autographs and meet his fans - some of which had travelled from as far as the USA, Australia and Iceland to hear him - before leaving for an appointment he had been waiting to keep for nearly 14 years.

That was to meet Swindon resident Lesley Drewett at the Great Western Hospital.
In 1991, Mrs Drewett had asked Justin help her raise money for a new cancer unit at the now-demolished PMH. Her sick husband, Gerry, was being partly treated there, but a lack of the right equipment meant that he had to travel to other hospitals to receive the specialist therapy he needed.
To help raise funds for a much-needed isolation room, Justin agreed to appear at a specially arranged benefit night in Swindon on 12 October 1991 - aptly named the 'The Moody Blue Bop'.

The result - a sell-out. And over £8,000 raised to help the campaign, with Justin not only entertainaing the audience all evening (backed by local band Mandrake and keyboard player Chris Bliss), but kindly donating a number of personal items to a charity auction.

That was conducted by another Swindon celebrity, John Francome, whose colourful personality managed to prize more than a hefty sum for one particular lot - Justin's prefect badge from his last year at Commonweal School!

That gig and other fundraising events eventually collected over £27,000 for the charity, but the money was never spent at PMH because of its impending closure.

Instead, the Gerry Drewett Cancer Fund, as it was called, was eventually donated to the Great Western Hopsital, where it helped build two specialist cancer wards, Sunbeam and Honey.

"Without Justin's help, none of it would have been possible. And why I'm thrilled that he found time to see what we achieved," said Mrs Drewett, who gave the the singer/songwriter a guided tour of the facility.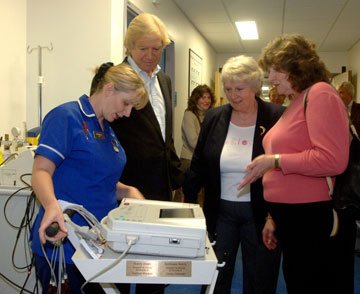 Justin Hayward with Lesley Drewett (far right)

"The 'Bop' was a fantastic night, and one I will always be indebted to him for. He's still the same person I knew all those years ago and truly one of the kindest people I've ever met."

During his low-key visit (which ended up lasting over two and three quarter hours), Justin took the opportunity to meet nurses and other staff while at the hospital, before attending a special dedication service to celebrate the ward openings.

"It was a cause I was delighted to be a part of," he said, "But this ward is here because of Lesley, not me. I just turned up to play a few songs."

And what great songs they are.

Streaming audio of the Justin Hayward concert at the Apartment is available via the BBC website (see link below).

BBC - Justin Hayward concert

Justin Hayward - more information
An Album Ahead Of Its Time
50 years on from The Moody Blues' grounbreaking 'Days of Future Passed' written by Swindon Rock God Justin Hayward#madeinswindon

05 November 2017

Justin Hayward
Happy 70th birthday to Swindon's rock God and Moody Blues legend...