Date added: 13 October 2005
Fitness or Fags?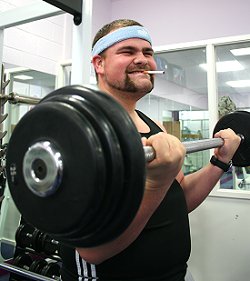 No smoking please:

Swindonians
have managed to stay fit despite
a liking for a quick puff
It's always been a tough choice for smokers - fitness or fags?

But in Swindon it seems we can do both, according to a new survey.

PruHealth, the medical insurance company, has just issued a report ranking Swindon as the fifth fittest town in the UK - despite 1 in 3 of Swindon folk liking nothing more than quick ciggy.

Only the people of Swansea, Bristol, Bolton and Manchester were classed as taking better care of their bodies. London came last.

Key factors in the decision to rank us so highly came from our high scores in:
The provision for sporting facilities.

The number of people taking exercise.

Alcohol intake.
all of which helped cancel out another usual statistic - 33% of us enjoy a good smoke!

"It's fantastic news," said Councillor Justin Tomlinson, lead member for Recreation, Leisure and Culture.

"It's a credit to our recreational facilities and open spaces that we've been rated so highly."

Of those interviewed, 46% said they took regular exercise; 47% visited a doctor for a medical check-up in the last 12 months; and only 3% admitted to drinking to excess (?!).

"I would say that there are a lot of people who exercise to combat the effects of smoking," commented Personal Trainer John Ashby of the Hypoxi Therapy Centre.

"It has to be said, though, that smoking isn't good for you. In the long term the fittest people are those who exercise regularly, aren't tempted by cigarettes and who drink in moderation."

SwindonWeb Health & Fitness Guide

Hypoxi Therapy Centre
- website

PruHealth
- website