Date added: 26 September 2005
Billie Shines Bright At TV Awards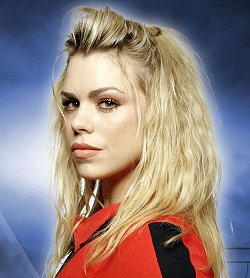 Drama queen:
Billie Piper
It was all smiles for Swindon-born actress Billie Piper last night.

The former pop-princess scooped the prestigious award for 'Most Popular Actress' at the National Television Awards for her part as Rose Tyler in the hit BBC show Doctor Who.

"Oh, wow!" she beamed, as she took to the stage at the Royal Albert Hall to recieve her accolade.

"Thank you so much to everyone who voted for me. This is absolutely brilliant!"

The 23-year-old also thanked her "gorgeous friends", "lovely parents" (who still live in Swindon), her boyfriend and "Mr E", who is believed to be her ex-husband, Chris Evans.

Billie came out on top after beating such well-known names as Caroline Quentin, EastEnders' Jessie Wallace (Kat) and June Brown (Dot) and Coronation Street's Sally Lindsay (Shelley), who were nominated in the same category.

Co-star Christopher Eccleston won the 'Most Popular Actor' award, with the sci-fi series itself seeing off The Bill and Desperate Housewives to win 'Most Popular Drama'.

"I knew when I first read the script for Doctor Who that is was going to be something special. But I never expected this!" Billie added at the post-awards party.

"I've wanted to be an actress since I was small, so this really is one of the most special nights in my life."

Billie is currently filming the second series of Doctor Who - this time next to a new Time Lord, David Tennant - with a Christmas special episode already completed.

The former-Braden Forest Schoolgirl can also be seen on our TV screens later this year playing a major part in BBC1's updated version of Shakespeare's classic Much Ado About Nothing.
Billie Piper
Swindon's pop star turned award-winning actress...