Date added: 15 September 2005
Busy Skies Over Swindon
Up, up and away: paragliders take-off in Swindon
The skies over Swindon have been busier than ever of late.

And it hasn't just been the increased aircraft activity at the nearby RAF bases of Fairford and Lyneham that's got people stopping and looking up to the clouds.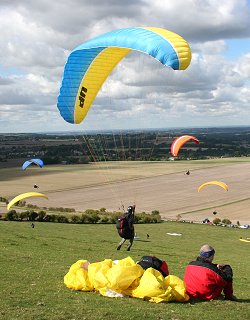 paragliders take-off in Swindon
It's also been the colourful sight of paragliders taking advantage of some late summer sunshine and brisk winds high up on Liddington Hill.

"It's nearly a perfect day for it," said one member of the Thames Valley Hand Glider and Paragliding club, who used the hill as a major launch site this weekend.

"Swindon's got some great locations for paragliding, with this [Liddington Hill] and Milk Hill being the best.

"It's huge fun getting up there and looking down on everything, especially on a day like today."

In all over 40 paragliders descended on the mount during the day, which overlooks the M4 and enjoys wonderful views of the rolling Wiltshire countryside that surrounds it - some of which enjoyed more success than others.
"The ideal wind is definitely a north-westerly, but today it's a little bit easterly which makes taking-off a little tricky. Hopefully it'll pick up as the day progresses," said one glider who was struggling to get airbourne.

The flyers also brought out a number of onlookers, all curious to see this extreme sporting spectacle up close.

"It's fascinating sight," said one spectator. "I was driving along the motorway and saw all the parachutes, so I thought I'd stop and take a look. It's not the sort of thing you see everyday, is it?"

Elsewhere in the skies, the activity has been dominated by the more common site and sound of aircraft taking off and landing at RAF Lyneham and, more recently, Fairford.

At Lyneham, it's been a busy time for the four flying Squadrons (Nos XXIV, 30, 47 and LXX), who specialise in the crucial role of transporting military personnel, vehicles and freight around the world.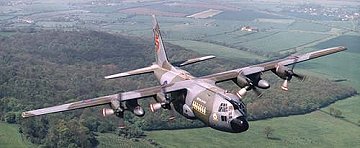 a Hercules from RAF Lyneham flies over Swindon
In the last year, the base near the south of Swindon has dealt with over 35,000 flights using its airpace, with the resident Hercules (nicknamed 'Fat Alberts') taking up the vast majority of them.
And next month, we can expect to see even more comings and goings above us.

To coincide with the UK's Presidency of the EU, a major meeting of defence ministers from around Europe has been organised at RAF Lyneham for October. All the delegates will be flown in, plus a massive security operation put in place.

Part of the all-day conference will include a demonstration of the RAF's other capabilities including air-to-air refuelling, combat maneuvers and quick reaction deployment.
While that is going on, those on the north-side of town may hear the boom of engines eminating from RAF Fairford.

Normally busy over just one weekend of the year, when the world's biggest airshow, the Air Tattoo, takes place in July, the US airbase is currently the temporary home for operations for nearby RAF Brize Norton.
a C-17 takes off at RAF Fairford
For the next four months, 8 Tri-stars, 15 VC-10s and up to 4 C-17s, plus two to four 747 charter aircraft a week will be in action, while the runway at Brize is re-surfaced.

It is hoped that normal service will be resumed on 2 January 2006.
Hello, Mr President!
Air Force One soars over Swindon as Obama flies in to RAF Fairford - SEE PICS

04 September 2014

Catsbrain Farm
Bombs, bikes and bi-planes - memories of Eric Barnes, possibly Swindon's last owner-farmer...

02 October 2010

Last flight in
Repat flight arrives as ash cloud reaches Swindon at 6:00pm...

15 April 2010

Planes, Trains & Automobiles
How Swindon helped pioneer some of the most incredible aircraft ever built incl. Spitfires, Swifts & Concorde...

Skies Over Swindon
09 APRIL 1969 - 50 years ago Concorde flew in to Swindon - and in them days you were allowed on the runway! WATCH VIDEO