Date added: 03 January 2005
Swindon reacts to plight of Tsunami victims
Fundraising and volunteering continues across town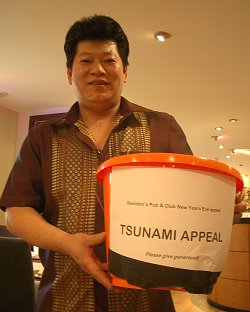 Collecting for the appeal in
Pom's Thai Restaurant in Swindon
Like the rest of the country, Swindon people have been doing their bit to help the victims of the tsunami disaster.

Hundreds of volunteers, children, families and individuals, have been continuing to donate and take part in a massive box packing operation at Hangar D1 on Wroughton Airfield, now thought to be the largest of its kind in the country.

And with the deathtoll now rising above 140,000 people and millions more homeless, the appeal has now gone out for Swindon folk to do even more to help the worldwide relief effort.
What is now most required at Wroughton:

1. Extra volunteers to help sort and pack the donations as they come in

2. Specific items, such as: Clothes/Shoes - to fit all ages Household items Medicines Bedding/Blankets/Sleeping bags, etc Tents Food (non perishible) Baby food Bottles water (no glass bottles) Toys Packing tape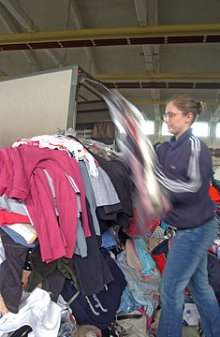 Sorting and packing donations in
Hangar D1 at Wroughton airfield
Thousands of boxes have already been packed and dispatched to the disaster zone.
Bizarrely, even a pair of skates was donated by one individual!
Talking of the team spirit at the hangar, Pat Snow of the WRVS said:

"People dropping off donations at the hangar have become involved in volunteering and it is brilliant how many people have been contributing.

"If you have a spare hour or two people are still needed to help pack."
Matalan has so far donated hundreds of items of clothing and shoes from their clearing centre in Swindon. And surgical equipment and medical supplies donated by local companies and doctors' surgeries are also being included in the supplies to be sent to Sri Lanka.

Wiltshire Fire Brigade stepped in to organise health and safety, and the Women's Royal Voluntary Service have been on hand to provide refreshments for the volunteers.

Shoppers visiting the town's supermarkets have also been giving generously. Sainsbury's in Oxford Road have had £7,000 donated so far and expect even more in the next week.

Asda Stores at the Orbital Shopping Park have been collecting for the Red Cross since Saturday and will continue to do so having presented a cheque to the charity for £2,000 already.

At the Co-op supermarket in Old Town it is possible to make a donation whilst paying for your shopping at the till.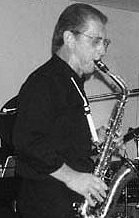 Local jazz musician Ray Butt and Dave Knight, Chairman of Swindon Jazz Society, make their appeal for local venues and pubs to get into contact with them as they plan a series of events in and around the town, in the Swindon Asian Recovery Appeal.
"The idea is to allow local communities to show their support for the tsunami appeal in their area, we are keen to hear from pubs, clubs, hotels, village halls, schools, and anywhere entertainment could be staged for the benefit of the public.

"It is hoped that a variety of venues would offer themselves for free to maximise funds raised and allow people to support the appeal in their locality," said Ray Butt.
To contact Ray Butt, telephone 01793 770929.

The Old Town Partnership of Churches is also working with Save the Children to collect clothes and blankets at Christ Church in Old Town.
Where to donate in Swindon:

If you have any items you think would be useful to the aid operation you can take them to:
Hangar D1, Wroughton Airfield

The collection point is situated in D1 hangar at the Hackpen Lane entrance to the site (please follow the yellow Science Museum Office signs).
or
Unit 7
Wroughton Business Park

The relief centre can be contacted by telephoning 07708 415362, or alternatively just go along.

If you wish to donate money you can do it online or pay a visit to your post office, bank or building society.
Riffs Rocks for Haiti
Gig raises money for earthquake victims, as Swindon businesses do their bit...

24 January 2010