Date added: 06 February 2007
A Mini adventure across the Commonhead flyover
It was like a scene out of the Italian job - but not quite.
Three SwindonWeb Minis driving over the new A419 flyover is hardly the same as Michael Caine driving through the backstreets of Turin with $4 million dollars stuffed in the boot. But we enjoyed it all the same. Even though it was at a snail's-pace 40 mph.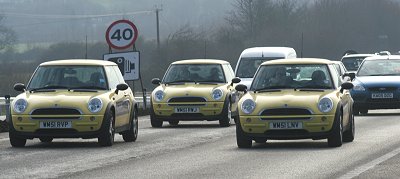 Up and over:
we take our 3 Minis on the new flyover
Today is the first full day that motorists were allowed to use the brand-new £16.3 million carriageway that carries traffic over the Commonhead roundabout. In the northbound direction anyway.
And until the lovely people in charge of the road noticed us admiring the view and taking pictures - and politely asked us to bugger off! - we managed to snap away and have some fun with our video camera.
The most exciting thing in the world it is not - but hey, this is Swindon!

Commonhead Flyover - 06/02/2007