Date added: 15 February 2007
Dom not so Joly about Swindon
It may have been Valentine's Day - but we couldn't quite get Dom Joly to fall in love with Swindon.

The outspoken comedian, who has had a fair go at bashing Swindon of late, was in town to take part in a BBC Radio programme on just that subject - his dislike of the place.

A town he has described recently as 'the bronx of the Cotswolds'!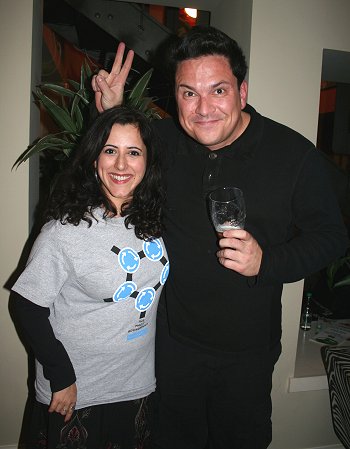 Live in Swindon:


Dom Joly and BBC Five Live presenter
Anita Anand
(wearing a SwindonWeb Magic Roundabout T-shirt!)
So, with video camera in hand, we hung out at the Lava Lounge in Fleet Street - the temporary home for the Anita Anand's Five Live phone-in show - late last night to ask Dom just why he hates us so much - and whether we could persuade him to find a place in his heart for Swindon just a teeny bit.

It was February fourteen, after all.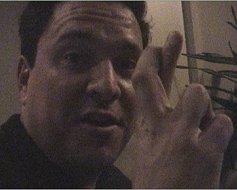 Trigger Happy Swindon


Dom Joly and BBC
Radio Five Live in Swindon

Defending Swindon's honour on the show was leader of the Council Roderick Bluh and a number of specially invited guests.

They included former Town boss Iffy Onoura, the captain of the Swindon Ladies Rugby team and Trevor Howell, the manager of Swedish bank Handelsbanken, who chose Swindon recently above all others towns in the UK to open a new branch here.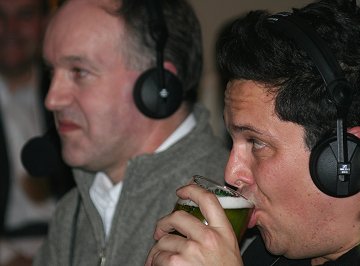 Doing battle:
Leader of Swindon Council
Roderick Bluh and Dom Joly

Kevin Beresford, author of Roundabouts of Great Britain and a big fan of our Magic Roundabout, was also on hand to chivvy us up live on air - and even find some common ground with Mr Joly on the beauty of our world famous traffic control system.

"It's the one thing I do like about the place," said Dom, who actually lives just outside Swindon, "it's mad!"

"It looks like the people who designed it were on hallucinatary drugs. I like the idea of that!"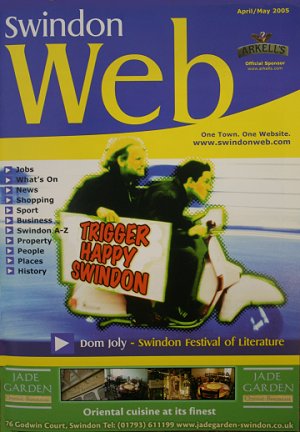 Thanks, pal!:


and to think we did our best to promote Dom
on the front-page of our SwindonWeb magazine
when he appeared at the Swindon
Festival of Literature in 2005

Dom not so Joly about Swindon - 15/02/2007