Date added: 16 February 2007
Campaigners get in a Tiss to save Leisure Centre
STORY UPDATE: 06 March 2007 10.20pm
We've done it! Cricklade Leisure is saved from closure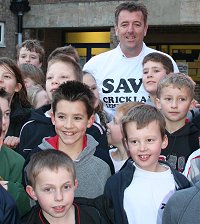 Happy ending:
young campaigners outside
Cricklade Leisure Centre with
Campaigners are celebrating tonight after it was announced that Cricklade Leisure Centre has been saved from closure.
At a morning meeting earlier today, the NWDC [North Wilts District Council] agreed to provide the £60,000 required for KLIC [Keep Leisure in Cricklade] to start running the Centre from the 1st April.
"It's absolutely brilliant news," said Gary Walker, Chairman of KLIC, "it's a victory for the people of Cricklade and common sense.
Many thanks to all of you who have helped make this possible."
A new community-based organisation has now been formed to take over the running of the Centre, with all profits being ploughed back into improving facilities.
Over the next three weeks, the group will be holding a public meeting to give residents the opportunity to hear details of the plan and what needs to be done so that the Centre can be taken over successfully.
STORY UPDATE: 19 February 2007 4.41pm
Temporary Reprieve for Cricklade Leisure Centre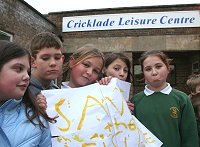 Facing closure:


Cricklade Leisure Centre
Cricklade Leisure Centre will stay open until at least 31 March, North Wilts District Council [NWDC] have announced.

At an emergency meeting between the Council and supporters of the leisure facility today in Chippenham (which only finished at 4pm), closure of the centre was delayed to give time for an action-plan to be put into place to safeguard its future.

On Friday, the company responsible for running the centre on behalf of the Council, North Wilts Leisure Limited, called in the receivers and it was feared that the axe on the 28-year-old centre had finally fallen.

But after what were described as 'positive talks' this afternoon, a solution is nearer to being agreed.

"We have a businees plan to keep this centre open for the community," said Gary Walker, Chairman of KLIC (The Keep Leisure in Cricklade (KLIC) Action Group).

"It will cost £70K to keep it open for the next 12 months, and we think that public money would be better spent running the Centre for the community's benefit rather than in boarding up the buildings and paying-off former staff."
ORIGINAL STORY: 16 February 2007
Campaigners get in a Tiss to save Leisure Centre
The campaign to save Cricklade Leisure Centre received a major boost yesterday - the support of football star Matt Le Tissier.

The former England international paid a surprise visit to the under-threat facility to back those hoping to save the centre from closure.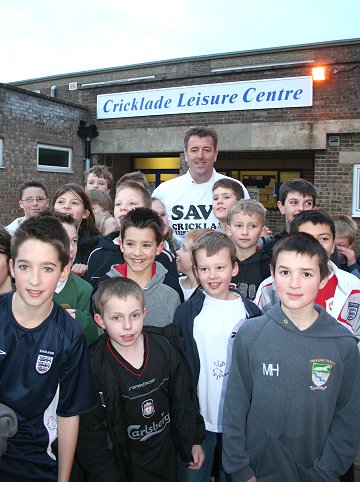 What a result:
Matt Le Tissier lends his support to
save Cricklade Leisure Centre

"I think it's vitally important to preserve leisure facilities for young people," the 38-year-old said.

"I was lucky enough to make a living out of playing sport and I know how important it is in this age of computer games to provide places like this for children growing up."

Donning a 'Save Cricklade Leisure Centre' t-shirt, Le Tissier spoke to supporters of the centre and encouraged them to keep fighting to prevent its closure.

The Sky Sports pundit also signed autographs for the hoard of children who turned out to meet him.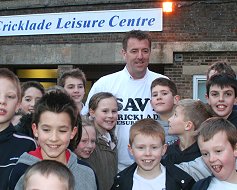 Saint Matt:


Matt Le Tissier visiting
The Leisure Centre has been earmarked for closure by North Wilts District Council, who cite a lack of funds inorder to keep it going.
First opened in 1979, the Centre facilities include a swimming pool, sports hall, squash courts, tennis courts and a snooker room.
"We hope to come up with a plan to keep this place going,"
commented lead campaigner Gary Walker, Chairman of KLIC (Keep Leisure In Cricklade) Action Group.
"The centre has been a massive part of our community for nearly thirty years and it's crucial we keep it open."