Date added: 01 February 2007
Michelle Dewberry launches 'Superstars'...
Series 2 winner of BBC's The Apprentice in Swindon
Alan Sugar hardly got a mention as Apprentice winner Michelle Dewberry talked to the press in Swindon today.

The young winner of BBC TV's tough-talking, reality programme preferring instead to look to the future - and to finding Swindon's next 'Superstar'.

A brand-new opportunity for people aged 16-25 who want to find the career they've always wanted.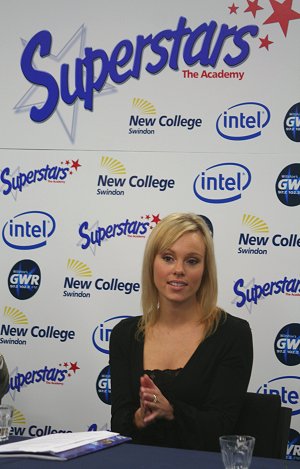 Calling all 16-25 year-olds:


Michelle Dewberry

Or, as how Ms. Dewberry explained it, "....a great chance for people who haven't excelled academically to have a second go at following their dream."

A completely original idea developed by New College, and made possible by the help of some of Swindon's biggest businesses, including computer giant Intel.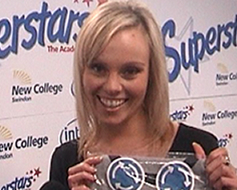 You're hired!


the launch of
Superstars - The Academy
at New College

Entrants to the competition, named 'Superstars - the Academy' - that's more X-Factor than Apprentice in its format - will be given the chance to showcase their talents to a panel of judges (Michelle included) with the prize of a career in fashion, fitness or management the prize.

A 12-week intensive course the first objective before the ultimate winners in each category are chosen.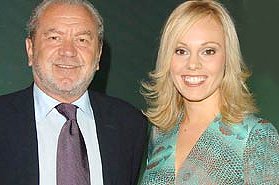 The chosen one:
Ms. Dewberry beat 10,000 other applicants
to win The Apprentice and a £100,000 pa
job with Alan Sugar after an intensive
12-week interview on BBC TV

Explaining her motives for getting involved, the 26-year-old former check-out-girl-turned-company-director said:

"When I was sixteen, I had no idea what I wanted to do," Michelle was happy to admit, "and I found it difficult to accept advice from anyone.

"But after getting an opportunity I managed to get ahead, and that's why I think 'Superstars' is such a great idea. It provides the break so many youngsters will need to potentially make so much more of themselves."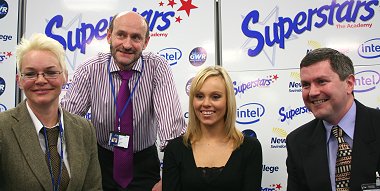 Giving youngsters a chance:
(l to r) New College marketing manager, Emma
Lacey, college principal Graham Taylor,
Michelle Dewberry and Intel's Simon Howell
Entries for 'Superstars' are now being invited in writing from anyone aged between 16 and 25, either in full-time education, unemployed or currently working.
Those who impress the judges will be asked to attend the first auditions on Saturday 24th March 2007.
Fifteen finalists from each category will then win a place on a the intensive, full-time training courses that will begin in April.
For more information, please see the website links below.