Date added: 01 February 2007
Get fit with SwindonWeb - week four - STRETCHING
Week four and the last in our series of fitness training with personal trainer Jason Scott.
A programme designed to help everyone - even the most unwilling! - get fit and that little bit healthier.
In particular, we have been featuring exercises and routines that can be done at home as well as the gym, plus tips and advice on all the other factors that can really maximise all your efforts.
Week 4: Stretching

It maybe the last week to our series, but by no means is it the least effective.
For this article and video Jason has given us the best ways to stretch out all out all muscles which we've been using over the last four weeks.
I think we all forget what the benefits are to a good old stretch - morning noon or night. Nothing beats it!
Not only does it make the muscles relax and
improve your flexibility
, it removes all the lactic acid that can build up in a workout, as well as
relieving tenderness
.
The key thing to remember is whatever exercise you do, you must stretch out that muscle group, as this will prevent injury and strain.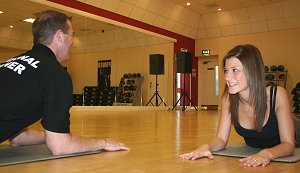 Stretching your abs:
Make sure you start with your body
flat and arms shoulder width apart

After all your sit ups you need to strech out your abs.
Lay face down on the floor with you arms out in front of you, spread shoulder width apart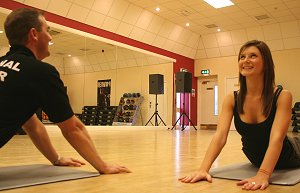 Push up:


making sure you arch your back

Now push up until your hips are exposed and you can feel the stretch across your stomach.

Hold this for up to 8 seconds and repeat if you want to really strech your stomach out!

Soon, we will all be modelling that perfect six pack!

Stretching your upper body
1. Shoulders

The feeling of 'heavy arms' is a common complaint after working your shoulder muscles.

Not the ideal way to leave the gym and drive home with, eh?
But with a few simple routines, this can be easily rectified.

For shoulders you can either gently roll them forwards and backwards to loosen the strain,

Or - taking one arm at a time, strech it behind the back of your body (see picture).


Once comfortable use the other arm to push a little bit of extra weight to really maximise the stretch.
Try and hold this position between
12-15
seconds making sure you rest in between each one.
And then repeat the movement with the other arm.
To stretch the tops of your shoulders, push your arms right out in front of you and drop your head.
You should feel this pulling gently across the tops of your shoulders and through your arms.
Hold this strech again up to
15 seconds
seconds.
Stretching your upper body
2. Chest
Your chest is not always the first thing people think about after a work-out (except to see whether it's improved, of course!).
But effective stretching here is vitally important.
And it's a really easy exercise to do it properly - just start by linking your hands behind you (see picture, below).
And
push your chest right out!
But remember ladies. If there are men about, try not to overdo it. You might give them a heart attack!
Stretching your Lower body
For your upper thigh, the best exercise is to balance yourself and lift your foot up bending your leg at the knee.
Make sure you knees are together and that the leg you have your weight on is slightly bent.
You must keep your body straight, and tall, so look up - as this will stop you stretching out of line, which potentially can cause damage to your back.
Hold this strech between
12-15
seconds making sure you rest in between each one.
And then repeat the movement with the other leg.
To stretch the calves of your legs, bend one knee and flex the other leg out in front of you.

Gently ease your body weight down on to the straight leg - and you should feel the calve of that leg starting to stretch.

To give it an extra stretch, flex your foot up (as in the pic. above).
Hold this stretch, again, up to 15 seconds seconds.

And finally...

Stretching your glutes!
(or bum muscles to you and me!)

To give you the best results use a sturdy wall.

Push one leg out behind you, keeping it straight, then use the other leg to bend and support your weight.



Now push your weight down onto your legs and into your feet.
This will not only stretch out your glutes but again it stretches your lower legs.

And rest!....
Wow! That completes our four week exercise programme! Can you believe it's been four weeks!
So now we have given you a push in the right direction, we hope to see Swindon full of lots of fit and healthy people!
Join me in late spring and I'll be showing you how to get the perfect body for those all important summer holidays!
But until then happy training!!
Jason