Date added: 11 January 2007
Tito Jackson
Tito Jackson, brother of Michael, Marlon, Randy, Jermaine and Jackie - AKA The Jackson Five - made an appearance in Swindon today.
The BBC TV 'Just The Two of Us' star paid a visit to Centre Fitness alongside close-friend Matt Fiddes to witness an exhibition of martial arts by local school children and students from Swindon College.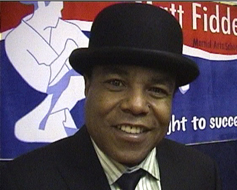 Rockin' Robin!
Tito's visit
Wearing his trademark bowler hat, the Motown singer, 53, was greeted by a number of fanatical fans (who presented him with a rose) before spending over an hour at the gym watching a specially arranged class and praising all those involved.
"It's been inspirational coming here," Tito told us.

"Seeing all the kids showing such dedication is a tribute to Matt and his team of instructors. I never tire of seeing people bettering themselves and what I've seen here in Swindon is fantastic."

Tito, whose brother Jermaine is currently starring in Celebrity Big Brother, also told us of his hopes for a reunion of the Jackson Five and how much he was looking forward to visiting the Magic Roundabout!

"I've heard a lot about it and Matt has promised to drive me down there later," he added, "it sounds like fun!"

Tito Jackson - 11/01/2007
Holy Rood Turned Hollywood
South African star & wife to Michael Jackson's former bodyguard performs at Swindon school - SEE PICTURES + WATCH VIDEO

Beat It!
It's Fiddes, Fedoras & Foxx's in Swindon to promote Jackson tribute - SEE PICTURES

22 May 2013