Date added: 12 January 2007
Bowen Technique
Although we've been out and about this month trying loads of different ways to get fit, we've not forgotten what's like to have those niggling pains and problems that can really stop you making the most of yourself.
The obvious ones such bad backs, stiff joints other ailments almost ruin your motivation before you've started. And that's before we've mentioned things like fatique, stress and generally feeling under the weather.
So what are the solutions? And can we find one that doesn't involve the use of needles, pills or being bent over backwards!
We think we have. But we'll bet you've probably never heard of it.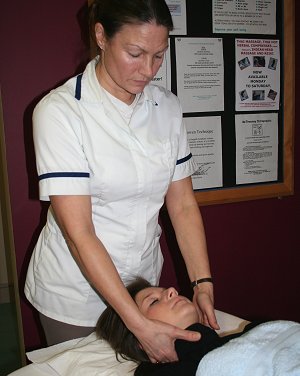 Hands on:


Angelika prepares to do her magic on my shoulder

It's a treatment called to the Bowen Technique, and after experiencing it first hand we can definitely say it worked for us.

My shoulder problem (which has been hardly a delibatating injury but still a serious pain) now feeling a whole lot better after just one treatment, allowing my boss (yes, him again) to send me out to attempt even more dangerous pursuits in the name of SwindonWeb.

My original excuse for not doing a parachute jump now well and truly wearing very thin!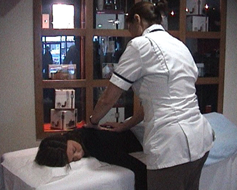 Half-an-hour in heaven
the benefits of the
Bowen Technique

Administered by the healing hands of Angelika Breukers of B-Balanced, an expert in the Bowen Technique for over 5 years, this no-nonsense therapy involved gently stimulating key parts of my body that (apparently) trigger its natural healing.

The whole process completely painless, and so deeply relaxing that I'm sure I briefly fell asleep during my 15 minute taster-session on the couch.

"There was a lot of tension there," Angelika said to me after I 'came round', "I could really feel your shoulder muscle relaxing itself, so I'd guess you've had a problem there for a while.

"Give it a few days and see how it feels then. I think you'll be surprised how much more movement you can get back in it."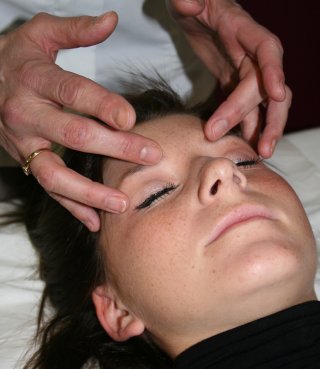 Cure all?:
the Bowen Technique is also claimed to be
good for problems such as migraine, insomnia
and hayfever, to name but a few
And that, I can happily vouch, there is no doubt. I've even started sleeping a little better after Angelika mentioned doing something that might help cure a brief spell of insomnia I've been suffering from.
What's certain, is that whatever she did to my body that day has had a quite profound effect that I can't quite explain. It really has made a difference.
Cheers, Mr. Thomas Bowen, the guy who figured it all out in the 1950s, it looks like I'm now going to being jumping out of a plane thanks to you!