Date added: 12 January 2007
Drinking yourself healthy
It's that time of year again where we all regret over indulging.
Let's face it, we've all eaten and - most probably - drunk far too much over the festive season.

But a new year means the promise to our bodies that we will take better care of ourselves - and make a real effort to include all those vital vitamins and minerals that your mum told you needed to grow up strong and healthy.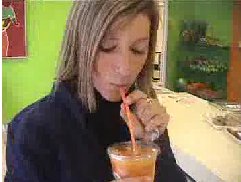 Freshly squeezed


We ask for advice on healthy drinking...
So who better to ask than Sean Carroll of Bar Fresh - a man who really knows his juices.
"We recommend to our customers apples, oranges, carrots and spinach as a good detoxing drink," he told us.
"The combination works well together, and it's easy to digest and frees up some of your spare energy."
"And as it's January, we know that eveyone is keen to get fit, so we suggest a simply shake, containing strawberrys, mango and fresh orange juice."
Our top tip for the week!
Try snacking on a new fruit you have not tried before - this will help you get your five portions of fruit a day.