Date added: 08 January 2007
Dipping deep for charity
Is it a bird? Is it a plane? No, it's 30 dressed up swimmers bobbing down the Thames to raise money for charity.

Members from the Swindon Sub-Aqua Club [SSAC] plunged into the icy water on Sunday morning to raise money for the Royal National Life Boat Institution.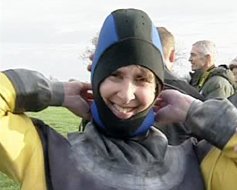 Getting wet
for a good cause!
swimmers taking a plunge in the

The brave swimmers lept from the riverbank in Inglesham and swam east to Lechlade before receiving a well-earned cup of warm soup at The Trout Inn.

"We have been holding this annual event for 25 years now," said John Hamilton, 80, founder - and oldest - SSAC member, "and believe me, it seems to get colder every year!"

In that time, the Swindon branch - which this year celebrates its 50th anniversary - has raised in excess of £20,000 for the RNLI, which has helped buy several inshore lifeboats.
Flipping mad!
The day Kirsty got rather wet swimming down The Thames - in January! - SWTV..