Date added: 15 January 2007
African Adventure
Like many of us, a mid-term break is used to catch up on a long awaited rest - but not for eleven construction students at Swindon College.

The apprentices are using their week to take part in a voluntary work placement in Gunjur in Gambia, where they will assist in two important building projects.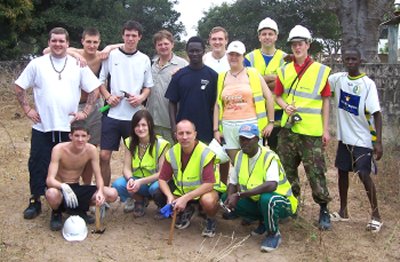 Every little helps:
the students from Swindon College out in Africa

Amongst the team are painters, decorators, plumbers, carpenters and bricklayers, who all raised their own travelling expenses themselves through sponsorship and fundraising activities.

In addition, the group are raising money to cover equipment and for the building materials needed - a generous donation of £3,000 pounds from the Pearce Group Ltd, who are suppling the pupils with all their personal protective equipment, kickstarting the project.
This year's visit follows the successful visit in Febuary 2006, where they fitted a roof which enabled the pre-school to open.

This year the workers hope to refurbish and repair the Gunjur Community Pre-School building including fitting a suspended ceiling, a room divider, shelving, display boards and internal and external painting and decorating.



While in Africa, the group also hope to complete another main project to further develop the tourist accommodation at the Woulaba Garden Lodge nearby.

"This will help to develop the local community and build on the potential employment and revene benefits of tourism," said one student.

Woulaba Garden Lodge
- website

Swindon College
- more details