Date added: 05 December 2007
Danielle Hits Swindon
Danielle Lloyd presents Matt Fiddes with martial arts award...
Swindon martial arts expert, Matt Fiddes, was celebrating last night after receiving a prestigious award.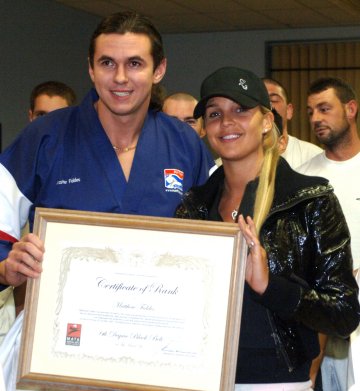 Matt Fiddes' martial arts student Danielle Lloyd
presents him with prestigious award

One of only a few honoured across the world, Matt was overwhelmed by his own achievement, as he was presented with his 6th Degree Black Belt in Tae Kwon Do, at his home town training centre on Station Road.

To add to the excitement, Matt was presented the award by model, Celebrity Big Brother star and current training partner, Danielle Lloyd.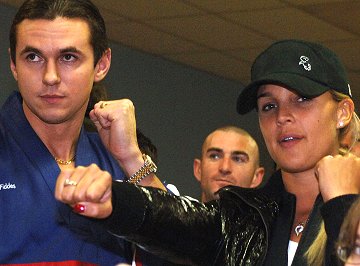 Danielle has been taking self-defence lessons
with the martial arts expert himself
CalyxTV

Danielle has been training with Matt for the past few months to improve her fitness, self-confidence and self-defence, after a tough period for the 24-year-old, who is rumoured to have had a stalker.

And Matt was the perfect choice, with a martial arts empire now stretching over 500 training centres across the country – and at just 28 years old, the self-made millionaire has much more to achieve.
Mel Turner-Wright

Danielle Lloyd - 05/12/2007
Holy Rood Turned Hollywood
South African star & wife to Michael Jackson's former bodyguard performs at Swindon school - SEE PICTURES + WATCH VIDEO

Beat It!
It's Fiddes, Fedoras & Foxx's in Swindon to promote Jackson tribute - SEE PICTURES

22 May 2013

Anti-Bullying Week
Students tackle cyber-bullying for national campaign...

16 November 2009