Date added: 06 December 2007
World Championship Wildcats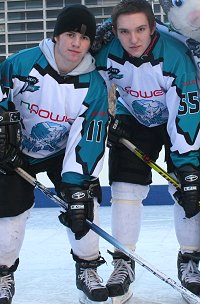 Wildcats Matty Davies (l)
and
Michael Farn prepare for
the
World Championship in Latvia
The Swindon npower Wildcats have been helping the GB Under 20s ice hockey team in training this week, in preparation for the World Championships in the Latvian capital, Riga.

With the Wildcats' Head Coach Peter Russell also acting as Head Coach of the GB team, it seemed the perfect opportunity to bring his team together for a final training session before their first game on Wednesday.

But the Link Centre ice rink is not unfamiliar to three members of the World Championship team – with Wildcats Michael Farn, Matty Davies and Joe White forming part of the squad.

Although confident with a strong squad, Team GB face tough competition in Division 1B – with games against Belarus, France, Hungary, Slovenia and Latvia, in what will hopefully be the first of many within this competition.

The two-day training session will complete this evening, with Team GB taking on the Wildcats in a challenge match at the Link Centre from 8.30pm.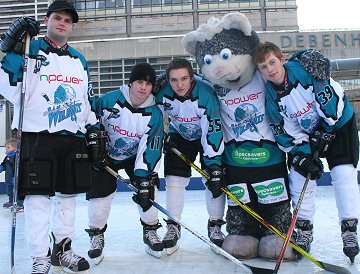 Members of the Swindon Wildcats,
who will be taking on the Under 20s GB team

Wildcats General Manager, Steve Nell, said: "It will give Wildcats fans a good opportunity to see the best young talent in the country, and will be invaluable time together for Pete and his squad ahead of the tournament in Latvia."

Tickets are available on the door, at £9 for adults and £5 for children, with family discounts available. And as a special incentive, anyone producing a stub from Sunday's game against the Sheffield Scimitars will receive discounted admission at £6 and £3 respectively.
Mel Turner-Wright