Date added: 07 December 2007
History in our hands
Prestigious library moves to Swindon



Nobody in Swindon would have ever imagined having original editions of Einstein, Galileo, Newton and Darwin on their doorstep – but today, that unbelievable thought has become reality.
Now based within the Science Museum at Wroughton, a prestigious 120-year-old library has moved to Swindon after 38 years at its previous home at Imperial College, London.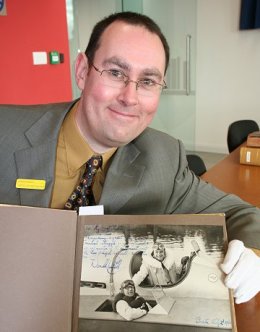 John Underwood, Assistant
Librarian, shows off original photos
of Donald Campbell and Leo Villa
attempting the world water
speed record on Coniston Lake

Included within this collection of priceless gems is the actual Apollo 11 flight plan signed by none other than Buzz Aldrin and Neil Armstrong, and used by ITN reporter Frank Miles who reported during the ground-breaking 1969 mission.

Almost three years of hard work and dedication has made this possible, and the library is set to bring so much to the town, and also to those who will undoubtedly travel from far and wide.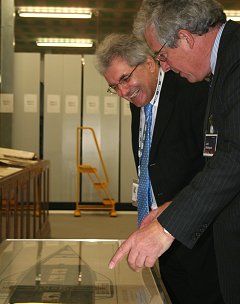 International importance:
Lord Waldegrave and Professor
Chris Rapley tour the Library

Today's launch was celebrated by those who have been involved over the period of preparation – including Rupert Williams, Head of Library & Archives, Rt. Hon Lord Waldegrave, Chairman of the Board of Trustees, The Science Museum, Professor Martin Earwicker, Director, National Museum of Science and Industry and Professor Chris Rapley, Director, The Science Museum.

"Swindon should be very proud to house such an amazing collection of works," commented Lord Waldegrave.

"This facility here really is of international importance."
The library will open to the public in January 2008.
The Dambusters 75
Swindon's connection to the genius of Barnes Wallis & the Bouncing Bomb - WATCH SPECIAL 4K FILM SCREENING IN SWINDON

09 May 2018