Date added: 10 December 2007
Kevin McCloud's eco-vision for Swindon
Homes, cars and local produce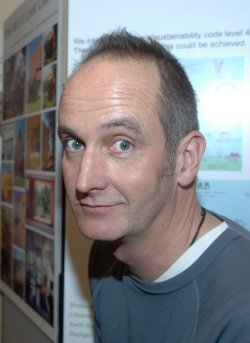 Kevin McCloud highlights our
sustainability opportunities
Grand Designs' Kevin McCloud was in Swindon over the weekend, showcasing his proposed plan to build up to 200 eco-homes.

The former Pickards Small Field allotments site, just off Pinehurst Road, is the second area selected for these homes after the Wichelstowe proposal in July.

Hab Housing, the company set up by McCloud out of frustration with the poor quality of the UK's volume housebuilding, will drive the development.

But the plans aren't simply for housing. The weekend's events offered a vision of large-scale car-sharing and locally-produced organic food shops situated around the town.

McCloud said: "Like so many modern towns, Swindon's rapid growth has seen the arrival of poor-quality volume housebuilding. Basically, you could jump out of a plane and you could be in a number of places.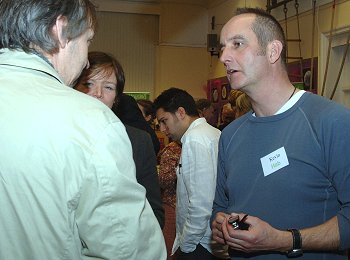 Kevin McCloud shows Swindon residents
his plans for housing in the area

"But we want this development to have a real sense of 'Swindon' about it, and this public consultation has given the people of Swindon something which you don't often get – choice."

If planning permission is granted, construction of these revolutionary homes could start as early as 2009.
Mel Turner-Wright
Grand Re-Design?
EXCLUSIVE TV: Kevin McCloud: "I'm not going to pull out now...." - updated

The Inn place to be
Yes, it's true! Swindon's been named as a number one tourist hotspot...

18 December 2007