Date added: 12 December 2007
Big Brother is watching you!
Beware the talking cameras
New CCTV cameras in place
in the town centre
Reality-TV show Big Brother has been reeling in the viewers for years now – but could that controlling voice really be coming to Swindon?

Believe it or not, this week it did. And with two talking CCTV cameras now in place across the town, residents can feel safer in the knowledge that a 24-hour surveillance team will be watching the streets and combating anti-social behaviour.

One of the cameras covers the Railway Village and can view the whole of Faringdon Road, combating anti-social behaviour, and particularly drunk and disorderly behaviour over the Christmas period.

The aim is to protect commercial and residential property in the area, with staff at the control room talking directly to people committing crimes and anti-social acts, over a loud-speaker.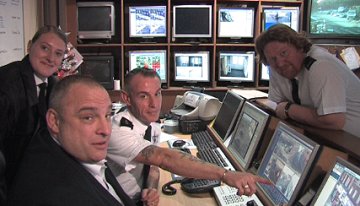 Mark Stratford and his team at the control centre
So the echoes of "please deter from the anti-social behaviour", and "please refrain from littering" could become a regular occurrence.

Mark Stratford, one of the Council members behind the project, told us: "It will be really proactive over the Christmas period and we're hopeful that it will reduce crime in the area.

"This puts us one step ahead, because if we do see somebody committing a crime, we can notify the police immediately."

These revolutionary cameras are transferrable, so the commanding voice of the control room could be coming to a street near you...
Mel Turner-Wright
We've been Googled!
For all to see: street views of Swindon in the digital age...

12 March 2010