Sports Round-up 13 December 2007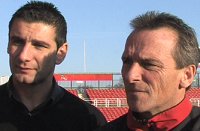 Looking on the bright side:


Ady Williams and Dave Byrne
'The future is bright' was the optimistic message from Dave Byrne and Ady Williams today at their weekly video interview.
Despite the recent dramas at the County Ground both on and off the field, the caretakers are both in agreement that with the proposed take-over potentially only days away the club is finally heading in the right direction.
Although the team are currently in a poor run of results the performance against Southend and the Youth Team's victory in the F.A. Youth Cup has given all at the club a cause for optimism.
"I'm delighted with the response the players gave against Southend and watching the youths against Barnsley was really encouraging," claimed Williams.
A number of the youth team players have been involved in the first team over the last few weeks and have attracted interest from a host of Premiership vlubs – in particular young centre-back Ben Tozer.
However, following a meeting with prospective new owner Andre Fitton, Byrne feels the club may be in a position to not have to cash in on their future stars.
"Mr Fitton asked if we really need to be selling the likes of Tozer," said an excited Byrne.
With Swindon facing a tough game against fellow mid-table club Brighton on Saturday at the County Ground, fans are encouraged to get behind the team and show their support for Mr Fitton and his new consortium.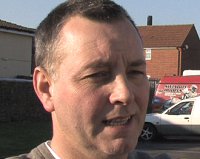 Speedway

Swindon Speedway announced the final three riders that will make-up the 2008 Swindon Robin's squad.
The new faces include the return of fans' favourite Mads Korneliussen, the arrival of Dutch ace Theo Pijper and the re-signing of Seb Alden.
These three riders will complete the line-up that is headed by Aussie Superstar Leigh Adams who will once again captain the side.
The squad is pack with youngsters from around the globe all keen to impress the well-known Swindon crowds.
Ever since the Elite League points-limit was reduced to 38.85, Alun Rossiter and his team have worked tirelessly to ensure that the best possible team has been assembled to compete for honours next season.
The 2008 Swindon Robins Squad:
Leigh Adams (c) 10.30
Troy Batchelor 5.74
Travis McGowan 5.34
Mads Korneliussen 5.18
James Wright 4.73
Seb Alden 3.84
Theo Pijper 3.70